Close Banner
Advertisement
This ad is displayed using third party content and we do not control its accessibility features.
How To Manage A Side Hustle Without The Burnout – From Experts & The People Who Do It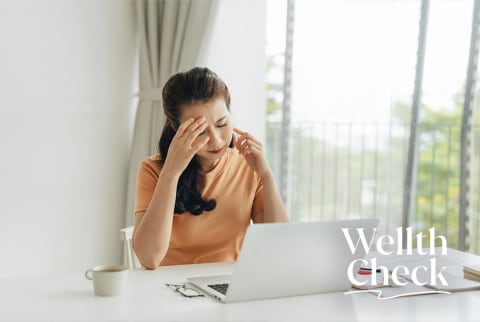 Image by Marc Tran x mbg creative / Stocksy
We carefully vet all products and services featured on mindbodygreen using our
commerce guidelines.
Our selections are never influenced by the commissions earned from our links.
Invest in your well-being: In this financial wellness series, we're diving into how to better budget for your physical, mental, and emotional health. Welcome to Wellth Check.
Who says you can't have it all? Every day, some folks are doing just that. They work a 9-to-5 and carve out the time to work on passion projects that bring them not only satisfaction but income too. It really is the best of both worlds.
Though for sure it is a balancing act. After all, there are only so many hours in a day. Lauren McAlister is a senior marketing content specialist at Mindbody + ClassPass and also co-owns McAlister Training, a circuit training fitness studio.
"Owning a studio and working a full-time job is no joke," she says. "But our workouts help people feel stronger and confident. I don't think there's anything more rewarding than that. My life is chaotic, but I wouldn't have it any other way."
You know what they say, where there's a will there's a way. Here's a look at those who are living their best lives and experts who can help you figure out how to do the same.
Focus on small gains
Nearly two years ago life accelerated for Julia Cavalieri after her last day in her 9-to-5 job in hospitality. She launched her marketing and PR agency Tropical Disco Media and relocated to Colorado from Florida, where she and her partner started Palisade Kombucha. Shortly thereafter she also began leading yoga events and teaching at studios.
"I'm extremely passionate about all three endeavors. The downside is that there are only so many hours a day to execute what I envision," she says. "No matter how well I manage my time, there's a long list of things I wish I could have gotten to by the time I rest my head on my pillow."
But she doesn't stress. "I remind myself that all the seemingly small steps I make each day are adding up to a bigger picture." She adds, "It's satisfying to know that for better or worse, risk or reward, at the end of the day the outcomes belong to me and are a direct reflection of my efforts."
Practice what you preach: Focus on yourself too
All three endeavors are fulfilling, notes Cavalieri. She says, "Teaching yoga and connecting with students lights up my soul. I hope I inspire them to live their lives in the closest alignment to who they are and forge their own path."
But as a well-being professional, sometimes it can feel like you spend all your time caring for others—and not yourself.
"I am vigilant about scheduling time for workouts and my yoga practice. This helps me feel ready to tackle the day. I'm organized," says Cavalieri. "I have about five different calendars and email accounts, so everything gets color-coded, labeled, flagged, or filed. My Notes app is my life, and I'm borderline neurotic about keeping lists and reminders. I carve out dedicated work time on my calendar where I zone into my projects and go deep."
She knows when to say when. "If my body asks for rest, sometimes I'll take a midday nap. Knowing when to stop and rest, and when to push through is important."
Do a reality check
"Make sure your side hustle is not a burden. Ask yourself, 'Am I fulfilling my responsibilities to my family, work, household surroundings, physical health, mental health, other creative talents?'" advises career counselor and coach Lynn Berger.
Work on the business — not just in the business
During 9-to-5 you'll find Diawn Jones working as the operations director for a medical office. But Jones is also the owner of a gym, Soza Fitness & Wellness, that provides group fitness classes and personal training. She started teaching group fitness classes more than a decade ago. She is also an R&D chemist and herbalist and offers holistic healing and herbalist consultations through her business the Hippie Chemist.
She spends about 20 hours a week working on her ventures. The staff runs the gym. "It's more profitable for me to work on the business, not in the business. I have a good team," she says.
Create a community (& give back to that community)
The full-time job provides the financial fuel to help fund the gym, notes Jones. But wearing many hats isn't easy. "I find myself always working. Whoever you have in your life—spouse, friends—make sure they understand your lifestyle."
The juggling is worth it, she says, because she is helping others live a healthy life. Her advice: "Make sure your side hustle is your passion; otherwise, you'll quit at the first obstacle. Make part of your business nonprofit so you can give back to your community."
Create a business model that works for you
Offer services, experiences, products, and packages that are aligned with the way you love to work, advises Amy Pocsik, founder of Bold Moves business and entrepreneurial coaching.
Another golden rule, "Surround yourself with the right people. No one achieves success all on their own. Focus on your strengths and get support in other areas."
Don't be afraid to just get started
The pandemic caused Alyssa Baker, who founded her public relations firm Riot Media Group in 2014 to hit the reset button. She moved from Los Angeles to Carmel, Indiana.
"I figured if I was going to move across the country, I wanted to start a second business in my spare time that was rooted in community and helping others heal. I'm proud to help my community through Aura Self & Soul Care," a studio and boutique where she offers mindfulness classes, like sound baths and breathwork, on average five to 10 hours a week. She also devotes time to creating content and managing social media for Aura.
She's happy she followed her gut. "It's rewarding that both businesses help people."
Aura was born out of her own burnout after years of being laser-focused on her PR career, agency, and clients, which left her mentally, emotionally, and physically exhausted and uninspired. "The tools I've learned through my own self-care journey over the last seven years are what keep me grounded and balanced now. I don't overextend myself like I did."
For potential side hustlers, she says, "Once you have a solid idea, get started as soon as possible. I waited for a year to execute my idea out of fear of the unknown. You don't have to have everything planned out perfectly because it won't go as planned anyway."
Plan your own performance reviews
Take time at six-month intervals to assess what's working well, what isn't, what have been the highlights, and what self-care practices will you commit to continuing. This examination is critical, says Octavia Goredema, career coach and host of the Audible Original series How To Change Careers. She adds, "Align your insights with how you defined what success looks like for you, to check your progress and recognize any milestones."
Sheryl Nance-Nash
Contributing writer
Sheryl Nance-Nash is a freelance writer specializing in travel, personal finance and business. She enjoys sharing smart money strategies and loves writing about the intersection of travel, history, wellness, art and culture. Her work has appeared on CNTraveler.com, Fodors, Afar, The Daily Beast, Newsweek.com, TravelAwaits, Global Traveler Magazine, among others. Her business writing has appeared in the Wall Street Journal, Money Magazine, Newsday, among others. Follow her on Twitter @NanceNash or Instagram @snntravels.