Close Banner
Advertisement
This ad is displayed using third party content and we do not control its accessibility features.
Don't Throw Away Your Squash Seeds — Make This Mouthwatering Granola Instead

By Caroline Muggia
mbg Contributor
Caroline Muggia is a writer, environmental advocate, and registered yoga teacher (E-RYT) with a B.A. in Environmental Studies & Psychology from Middlebury College.
Image by Nadine Greeff / Stocksy
If you're not already snacking on squash seeds, we have some major reasons you should be. Not only are they the perfect sweet and savory snack, but they also help regulate cholesterol and improve skin health. You may be jumping up to get to the store, but wait.
There's no need to buy a pumpkin or pre-prepared seeds. We have an alternative option that is more cost-effective and reduces food waste. If you've ever cooked with acorn or butternut squash, you already have what you need. Just save your seeds and you have the main ingredient for Joel's Tahini Autumn Squash Seed Granola.
Joel Gamoran, the national chef of Sur La Table, shares the recipe in his new cookbook Cooking Scrappy, where he offers simple yet delicious recipes that turn unexpected ingredients into gourmet meals. Joel shares how you can reduce food waste in your home, save money, AND love what you eat. A three-for-one that benefits you, your community, and the environment? That's very You. We. All. and we are all in.
Tahini Autumn Squash Seed Granola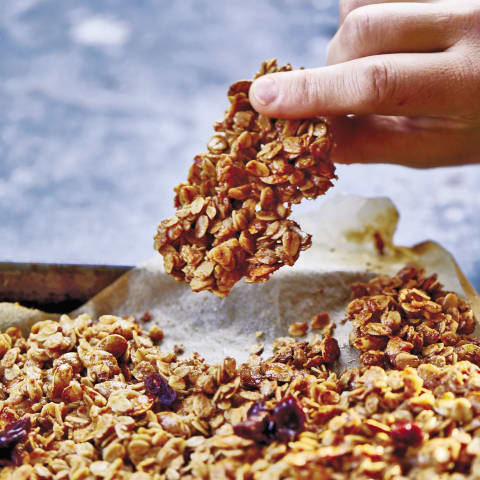 1 cup saved squash seeds
½ cup plus 1 tablespoon pumpkin seed oil or grapeseed oil
¼ cup maple syrup
¼ cup tahini
½ cup light brown sugar
3 cups old-fashioned rolled oats
1 teaspoon fine sea salt
1 cup dried cherries (or your favorite dried fruit), chopped rough
Flaky sea salt, such as Maldon
Turn the oven to 300˚F.
Line a baking sheet with a silicone baking mat, parchment paper, or foil.
Toss the squash seeds with 1 tablespoon of the oil right on the lined pan. When the oven is ready, bake until dry and beginning to color, about 10 minutes.
Mix the rest of the oil, the maple syrup, tahini, and brown sugar in a medium bowl. Mix into the squash seeds directly on the baking sheet with a rubber spatula or big spoon.
In a big mixing bowl, toss the oats and fine sea salt together. Stir in the squash seeds and dump everything back onto the baking sheet. Push into an even layer and bake until toasted, about 40 minutes, turning the baking sheet halfway through.
Cool completely and break into bite-size chunks. Stir in the dried cherries and season with some flaky sea salt.

Caroline Muggia
Caroline Muggia has a B.A. in Environmental Studies & Psychology from Middlebury College. She received her E-RYT with Yoga Works and is a graduate of the Institute for Integrative Nutrition. A writer and environmental advocate, she is passionate about helping people live healthier and more sustainable lives. You can usually find her drinking matcha or spending time by the ocean.