This Parsnip Soup Is The Perfect Anti-Inflammatory, Vegan Holiday Dish

Contributing Food Editor
By Liz Moody
Contributing Food Editor
Liz Moody is a food editor, recipe developer and green smoothie enthusiast. She received her creative writing and psychology degree from The University of California, Berkeley. Moody is the author of two cookbooks: Healthier Together and Glow Pops and the host of the Healthier Together podcast.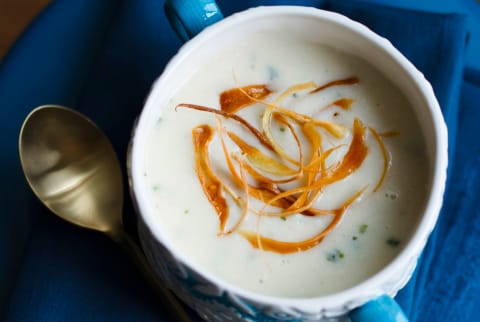 Image by Dobránska Renáta / Stocksy
December 22, 2018
Chef Gaz Oakley is one of the most successful food Instagrammers, with a whopping 277K people following his vegan creations. Now, with his new cookbook, Vegan Christmas, he's turned his attention to the holidays, with fare that's light on animal products but heavy on flavor. While you might initially balk at the pairing of parsnip and vanilla, they're actually perfectly complementary: "The vanilla works so well with the earthy creaminess of the parsnip," says Oakley.
Vanilla is an underappreciated superfood as well, with high levels of antioxidants that help with systemic inflammation1. Garnished with sweet-tart cranberries and a woody thyme, it's a veritable holiday party in your mouth.
Parsnip & Vanilla Soup
2 tablespoons avocado oil or water
4 banana shallots, finely chopped
1 garlic clove
8 parsnips, peeled and chopped in ¾-inch pieces
2 sprigs of fresh thyme
Scant 2 cups vegetable stock
Scant 2 cups almond milk
1 vanilla pod
3 tablespoons lemon juice
Sea salt and pepper
½ cup hazelnuts
½ cup dried cranberries
a few sprigs of fresh thyme or rosemary
Good olive oil
Heat the oil or water in a saucepan over medium heat, then sweat the shallots and garlic until translucent. Add some seasoning, the parsnips, and thyme sprigs.
Turn the heat down very low and cover the saucepan. Sweat the parsnips until they're almost soft, stirring often, for about 15 minutes.
Add the stock and milk, and stir to combine. Split the vanilla pod down the middle lengthwise and scrape out the seeds using the back of your knife. Add the seeds and the pod to the saucepan, bring the soup to the boil, then take it off the heat and scoop out the vanilla pod.
Carefully pour the soup into a blender and blend until smooth. Pour the soup back into your saucepan and check the seasoning, adding salt, pepper, and the lemon juice to bring out the flavors.
Serve in warmed bowls or mugs, sprinkled with the hazelnuts and cranberries, a sprig or two of herbs, and a drizzle of good-quality olive oil.
Based on excerpts from Vegan Christmas by Gaz Oakley, with the permission of Quadrille. Copyright © 2018.