This Healthy Spring Cocktail May Actually Prevent Hangovers (No Joke)
Contributing Food Editor
By Liz Moody
Contributing Food Editor
Liz Moody is a food editor, recipe developer and green smoothie enthusiast. She received her creative writing and psychology degree from The University of California, Berkeley. Moody is the author of two cookbooks: Healthier Together and Glow Pops and the host of the Healthier Together podcast.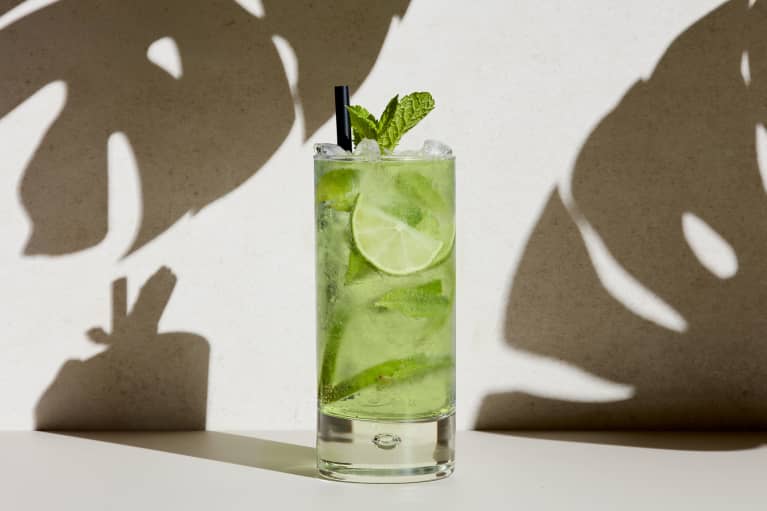 Regardless of the weather where you live, spring has officially sprung, and with it, fresh produce is trickling into grocery stores and farmers markets. A good spring cocktail takes advantage of this bounty, but it also, in my opinion, should lean heavily green and vegetal, to shake off the rooted heaviness of winter.
I love using vodka-based cocktails in the spring—the clean, barely there flavor of the vodka pairs perfectly with the fresh herbs, fruits, and vegetables of the season (I love Tito's for their quality and flavor). While mojitos are typically made with rum, this cocktail utilizes vodka for a fresher flavor and leans into that grassy green goodness with the addition of chlorophyll.
Chloro-what? You likely eat chlorophyll every day, even if you don't know it. The phytonutrient is what gives plants their beautiful green color; in isolate, it's renowned for its detoxifying abilities and chelating (meaning, binding to heavy metals and ushering them out of your system) properties. I can't promise it'll cure a hangover—but it'll definitely help! It tastes very subtly sweet and slightly vegetal, like sniffing the air around a fresh-cut lawn. It also turns any drink a shade of eye-catching green.
You can drink chlorophyll on its own, like Jennifer Lawrence, or you can lean into those greens and muddle it with fresh spring herbs, as in this cocktail. Basil is the consummate spring plant: Bright and sweet, its mildly peppery flavor instantly conjures up bold spring flavors (pestos, pizzas). I paired it with mint, which adds a grounding coolness that contrasts with basil's delicate spice and adds a gut-soothing quality, but feel free to play around with whatever herbs are at your local market (or sprouting up in your garden!)—thyme, rosemary, lemon verbena, and more would all work well here.
A bit of fresh lime adds a bit of lively zest to the drink—and voilà, you're ready for spring!
2 fresh mint sprigs
2 fresh basil sprigs
1 tablespoon honey
1 dropperful of chlorophyll
Juice of 1 lime
1½ ounces (3 tablespoons) vodka (we love Tito's and Absolut)
Chilled soda water
Ice
In a tall glass, muddle the mint, basil, and honey together until the leaves are crushed (you can use the back of a wooden spoon to do this).
Add in the chlorophyll, lime, and vodka; stir well to mix.
Top with soda water and ice as needed. Garnish with additional lime, basil, and mint.