This Cauliflower Soup Has A Delicious High-Fiber Twist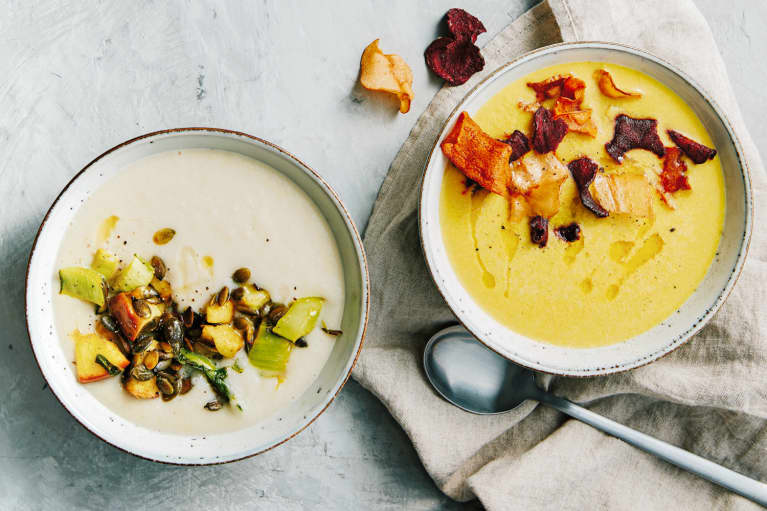 Our editors have independently chosen the products listed on this page. If you purchase something mentioned in this article, we may
earn a small commission
.
Eating fiber is essential for our digestion as it helps detoxify our system, supports colon health, and balances gut bacteria. Unfortunately, research suggests that only about 5% of the population is eating enough fiber. While it's likely we're not getting enough fiber, it won't help to eat a bunch of fiber-filled foods all at once as this may lead to gas and bloating. To avoid these unwanted symptoms, you'll want to incorporate more fiber-filled foods slowly into your diet here and there and see how you tolerate it.
This cauliflower soup from 30-Minute Vegetarian by Ylva Bergqvist is just what you need to get started on your high-fiber journey. You'll top off this protein-packed cauliflower soup with curry-fried apples. Apples are one of the highest fiber fruits, clocking in at 4.4 grams of fiber for a medium-size apple, which gets you closer to the recommended daily fiber intake. You'll blend together high-protein lima beans and heart-healthy cauliflower to get a flavorful, healing bowl of goodness.
Cauliflower Soup With Curry-Fried Apple & Seeds
Serves 4
Ingredients
Cauliflower Soup
1 yellow onion, diced
2 garlic cloves, crushed
Olive oil, for frying and to serve
800 g (1 lb., 12 oz.) cauliflower
200 g (7 oz.) cooked butter (lima) beans
500 ml (17 fl. oz. / 2 cups) cashew or almond milk, unsweetened
300 ml (10 fl. oz. / 1¼ cups) water
1 tablespoon freshly squeezed lemon juice
Salt
1 apple, peeled, cored, and diced
Olive oil, for frying
2 teaspoons curry powder
100 g (3½ oz. / ¾ cup) pumpkin seeds
Salt and freshly ground black pepper
Fry the onion and garlic together in oil in a large saucepan for around 5 minutes until soft over medium-low heat.
Remove the green leaves from the cauliflower, cut them into smaller pieces, and save them. Cut the rest of the cauliflower into small pieces.
Mix the cauliflower, beans, and nut milk in the saucepan. Add water to cover the contents, put the lid on, and cook for around 15 minutes until the cauliflower is completely soft.
To cook the apple, put the apple and cauliflower leaves that were saved earlier into a frying pan (skillet) with a little oil, sprinkle the curry powder over it, and fry until soft. Add the pumpkin seeds and ensure everything is warmed through. Season with salt and pepper.
Drain a little of the milk from the saucepan into a bowl. Blend the soup until it is smooth. Pour the milk back in and dilute with milk and/or water to your preferred consistency. Season with lemon juice and salt.
Top the soup with the fried apple and a drizzle of olive oil.
And do you want to turn your passion for wellbeing into a fulfilling career? Become a Certified Health Coach! Learn more here.