This Zucchini-Garlic Soup Is Detoxifying & Immune-Boosting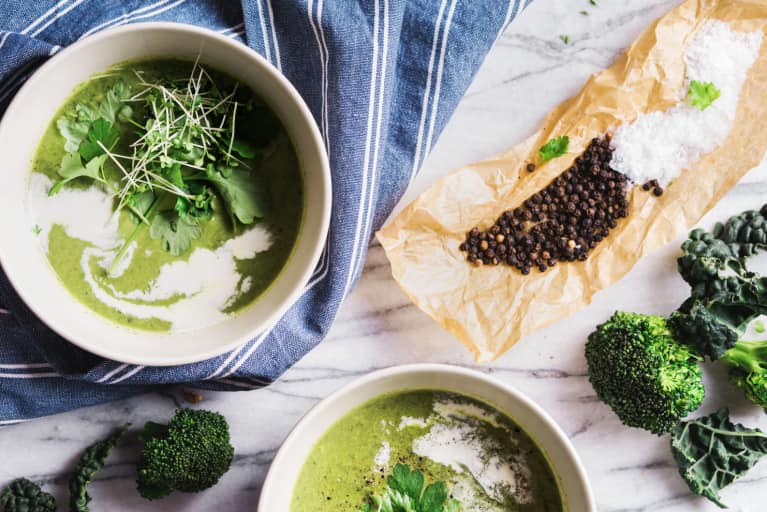 It's the perfect time to curl up next to the fire with a cup of warm soup—even better, one that supports your immune system and detoxifies your body.
"This Green Detox Soup is my absolute favorite; it is the perfect winter meal. Full of vegetables and superfoods, this soup will give you a dose of healthy nutrients, help your body detox, and give you a burst of natural energy," says Claire Grieve, celebrity yoga specialist, health coach, and author of the new e-book Energize.
Claire's wellness journey began after noticing changes in her health when she finally gave up foods that were not serving her body. Once she chose to nourish herself with plant-based foods, her joint pain, digestion, and sleep improved. In her e-book, she shares some of her favorite recipes that have helped transform her health along with yoga flows and mindfulness practices.
Her favorite is this soup, which includes superfood ingredients like garlic, known to fight infections and parasites and protect against common colds, and zucchini, which supports healthy digestion and detoxification.
It's easy to make, so whip it up and dig in!
1 head broccoli
1 zucchini
3 handfuls fresh spinach and kale
2 cups shelled sweet peas
4 cups vegetable broth
1 chopped leek
1 clove garlic
3 tablespoons olive oil
½ cup packed cilantro leaves
½ cup packed parsley
juice of 1 lemon
sea salt and pepper to taste
Wash and roughly chop broccoli, zucchini, spinach, kale, and sweet pea. Set aside.
Dice and slice the leek and garlic.
In a large saucepan, heat olive oil over medium-high until warm.
Add leeks; stir and soften for about 5 minutes until fragrant.
Add garlic, and stir for 1 minute.
Next add broccoli, zucchini, sweet peas, and kale; stir and cook for an additional 5 minutes.
Pour in vegetable broth and bring soup to boil; reduce heat and simmer for 15 minutes until vegetables are tender. Stir occasionally.
Add the spinach and sweet peas; simmer for another 2 minutes.
Turn off heat and allow soup to cool.
Pour into a blender with lemon juice, cilantro, and parsley, and purée until smooth.
Serve in a bowl, add a swirl of a fragrant olive oil, and garnish with a few cilantro leaves, kale chips, or shaved almonds.