This Beet Soup Has A Gut-Healing Ingredient You Don't Want To Miss
mbg Contributor
By Caroline Muggia
mbg Contributor
Caroline Muggia is a writer, environmental advocate, and registered yoga teacher (E-RYT) with a B.A. in Environmental Studies & Psychology from Middlebury College.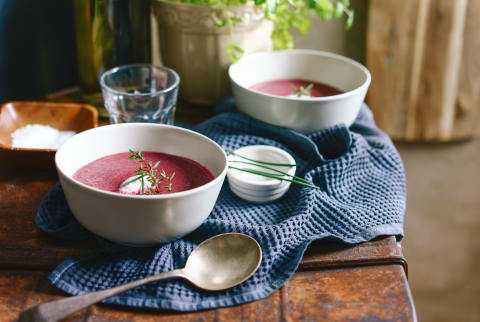 Image by Darren Muir / Stocksy
April 29, 2019
As we move into warmer weather, with a few cooler days still in the mix, it's nice to have meals that can satisfy your mood no matter the day. You can't (beet) this nutritious soup from The Way To Eat Now by chef and cookbook author Alice Hart, as it's delicious prepared cold or hot. You'll discover a blend of punchy, earthy flavors such as the beets and horseradish yogurt, rounded out by the sweeter more subtle flavors of the roasted fennel.
This colorful, flavorful soup will be delightful for your stomach, as it includes fennel bulb and seeds known to soothe symptoms of IBS and provide relief from gas and indigestion. The beets also offer some detoxifying benefits as they are high in antioxidants and nutrients, which helps the liver expel toxins and move them out of the body.
Advertisement
This ad is displayed using third party content and we do not control its accessibility features.
We hope this versatile soup makes its way onto your table soon and brings a smile to the faces sitting around it.
Beet Soup With Horseradish
2 pounds, 10 ounces beets
4 shallots, skins on
1 fennel bulb, quartered
A few sprigs of thyme
2 tablespoons olive oil
Sea salt and freshly ground black pepper
½ teaspoon fennel seeds
1 quart vegetable stock
½ cup red wine
1 tablespoon plus 1 teaspoon grated horseradish, fresh or jarred
⅓ cup Greek yogurt
Handful of store-bought beet chips, optional
Advertisement
This ad is displayed using third party content and we do not control its accessibility features.
Preheat the oven to 375°F (190°C).
Rinse the beets, trimming any stalks and leaves. (Save any nice baby leaves for a garnish.) Put the beets, still wet from rinsing, in a roasting pan with the shallots, fennel, thyme, olive oil, and a seasoning of salt and pepper. Cover the pan tightly with foil and roast for 50 minutes. By this time, the beets should be tender and sweet and the shallots soft.
Meanwhile, cook the fennel seeds in a dry frying pan set over medium heat. They should take about 45 seconds to become fragrant and lightly toasted. Transfer into a mortar and crush with the pestle.
Set the roasted vegetables aside to cool for 10 minutes with the foil on, or, if you can't wait, don rubber gloves and remove the foil immediately. Peel the skin from the beets and chop the insides roughly. Put the fennel seeds and beets into a large saucepan with the roasted fennel, discarding the thyme. Squeeze the shallot flesh into the pan, too, discarding the skins. Add the stock and red wine and bring to a boil slowly. Once boiling, reduce the heat to a gentle simmer for 15 minutes.
Stir the horseradish into the yogurt and season to taste.
Blend the soup, preferably in the pan with a hand blender for ease, until very smooth. Check the seasoning and reheat gently. Remove from the heat and immediately whisk in half the horseradish yogurt.
Divide the hot soup between warmed bowls, topping with spoonfuls of the remaining horseradish yogurt, a couple of reserved, well-washed beet leaves, if you have them, and a few beet chips for crunch, if you like.
Want to turn your passion for wellbeing into a fulfilling career? Become a Certified Health Coach! Learn more here.
Advertisement
This ad is displayed using third party content and we do not control its accessibility features.