These Vegan Blueberry Muffin Mug Cakes Are 100 Percent Ready To Eat In Under 5 Minutes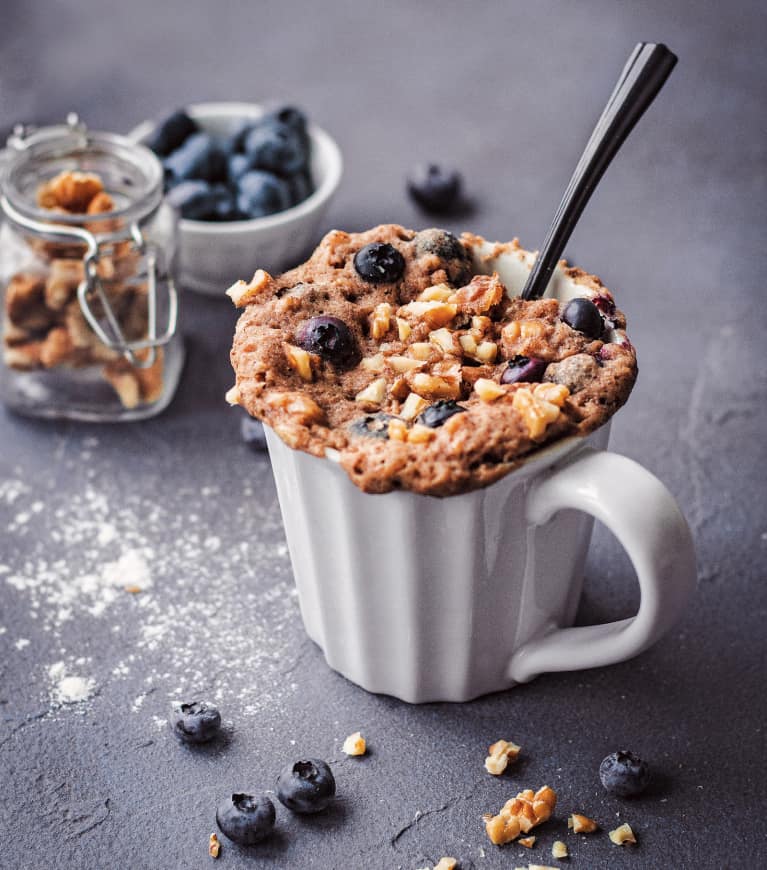 Our editors have independently chosen the products listed on this page. If you purchase something mentioned in this article, we may
earn a small commission
.
If you're feeling a bit intimidated by the idea of weekend baking—but very much interested in reaping its buttery, doughy rewards—you've come to the right place. Marisa Alvarsson, better known to her legions of followers as Miss Marzipan, has whipped up gluten- and grain-free, refined-sugar-free vegan blueberry muffin mug cakes, which bake in just one minute and 30 seconds. "Otherwise known as muggins, these magical mini treats can be enjoyed straight from the mug just minutes after you decide that dessert is in order," writes Alvarsson in her book, Naturally Sweet Vegan Treats, from which this is excerpted. The individually portioned muffins have a tender crumb and are studded with crunchy walnuts and sweet berries, with a lovely toasted flavor from the buckwheat, which, despite its name, is fully wheat-free (we promise!). Keep 'em in your back pocket for when you need a personalized baked-good fix!
Blueberry Muffin Mug Cakes
1 tablespoon (15 ml) melted coconut oil + a little extra for greasing, divided
⅓ cup (40 g) buckwheat flour
½ teaspoon baking powder
⅛ teaspoon baking soda
Pinch of salt
Pinch of ground nutmeg
½ teaspoon ground cinnamon
⅓ cup (120 g) mashed ripe banana (1 medium banana)
⅓ cup (80 ml) almond milk
½ teaspoon vanilla extract
2 tablespoons (20 g) chopped walnuts + extra for topping if desired
2 tablespoons (40 g) dried or fresh blueberries + extra for topping if desired
Lightly grease the insides of two microwave-safe mugs with a little melted coconut oil. In a medium-size mixing bowl (ideally with a lip for ease of pouring), mix the flour, baking powder, baking soda, salt, nutmeg, cinnamon, banana, milk, oil, and vanilla. Add the walnuts and blueberries and fold together. Pour the cake batter into the mugs. Top with an extra sprinkle of chopped walnuts or blueberries, if desired.
Cook each mug cake in the microwave on high (900 watts) for 1 minute and 30 seconds, turning the mugs halfway through the cooking time if your microwave doesn't have a turntable. If the cake is not cooked to your liking, pop it back in the microwave for 5 to 10 seconds.
If you don't have a microwave or prefer not to use one, simply use oven-safe mugs or large individual ramekins and bake the cakes in an oven at 350°F (180°C) for 20 minutes.
Recipe Note: To make these mug cakes nut-free, omit the walnuts and replace the almond milk with oat or coconut milk.