The 5-Ingredient Snack You Didn't Know You Needed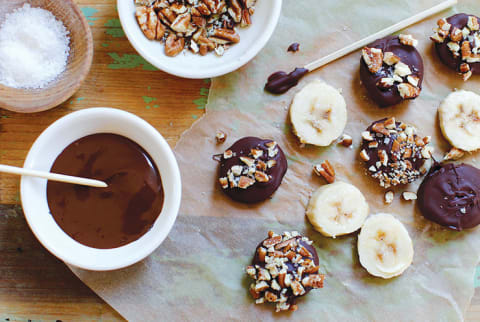 Photo by Christine Chitnis
April 7, 2016
This frozen treat with just five ingredients is the epitome of simple. Bananas are sliced into rounds then are dipped in chocolate and rolled in roasted, salted pecans for a creamy yet crunchy treat that satisfies both your sweet and salty cravings.
For a more pop-like experience, you can cut each banana into three chunks and place them on skewers before rolling them in the chocolate and nuts. I prefer the bites because large hunks of banana tend to be pretty tough to bite when frozen solid.
Banana Bites
½ cup pecans
1 tablespoon coconut oil, melted
½ teaspoon large flake sea salt
6 ounces dark chocolate, roughly chopped
2 bananas
1. Preheat oven to 325°F.
2. In a small bowl, toss the pecans, coconut oil, and salt; mix well so that the pecans are evenly coated.
3. Lay the pecans in a single layer on a baking sheet and bake until they are fragrant and toasty in appearance, about 15 minutes. Remove from the oven and allow to cool, then chop the nuts into smaller pieces. (I like to place another sheet of parchment paper on top of the cooled nuts and use a rolling pin to break them up.)
4. Using a double boiler (or metal bowl held over a pan of simmering water), melt the chocolate, stirring constantly to avoid scorching. Once the chocolate is melted, remove it from the heat and set aside.
5. Cover a baking sheet with parchment paper. Peel the bananas and slice them into ½-inch-thick rounds.
6. Working with one piece at a time, dip a banana round into the chocolate, fully covering the surface, and then roll it around in the nuts (it helps to use a toothpick or skewer). Place it on the parchment paper and repeat for the remaining banana rounds. When finished, place the baking sheet in the freezer for 15 minutes to allow the chocolate to set.
To store the banana bites, place them in a freezer-safe lidded glass container with a sheet of parchment between each layer of bites.

Christine Chitnis
Christine, an author and photographer, lives with her husband and sons in Providence, RI. Her latest book, Icy Creamy Healthy Sweet (Roost, April 2016) features 75 recipes for dairy-free ice cream, fruit-forward ice pops, frozen yogurt, granitas, slushies, shakes and more. Visit her at christinechitnis.com, on Instagram, and Twitter.