The Best Healthy 5-Minute, No-Cook Dinners For When It's So Hot You Can't Even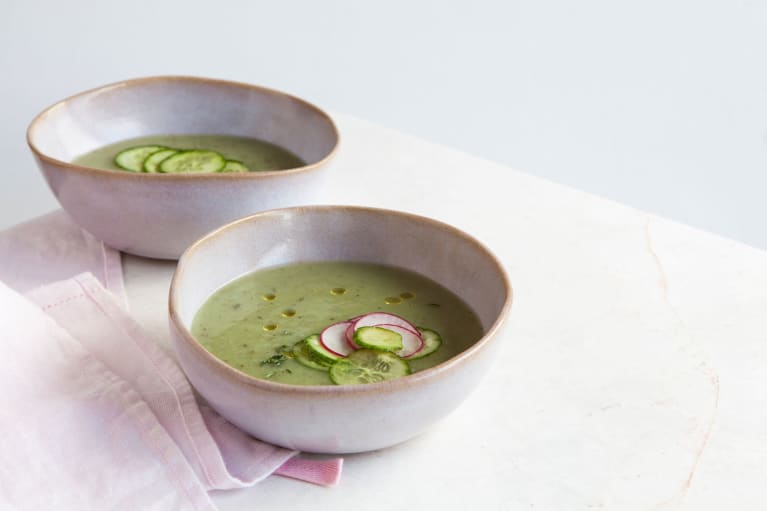 My NYC apartment is laughably small, meaning what happens in the kitchen doesn't stay in the kitchen. Smells and heat quickly fill the entire space; needless to say, coupled with my fairly pitiful air conditioning (#nyclife), this means I don't do a lot of baking in the summer. Sometimes, to be frank, I don't even want to turn on the stove—the thought of heat anywhere near my body or food is enough to make my sweaty body recoil. Because of this, I've developed quite a few no-cook recipes that still pack a flavor-punch and plenty of nutrients, with no limp salad leaves to be found. Here are a few of my favorites:
You can either go the store-bought option and have dinner on the table in the amount of time it takes you to open a jar, or you can make your own hummus, a shockingly easy task. Either way, you have a dinner that packs in a ton of protein, fiber, and healthy fat, plus the added benefits of whatever you choose to dip in it (I love pita, carrots, and cucumbers). To make my favorite no-recipe hummus, I just dump a can of rinsed, drained chickpeas into my food processor, then add two to three cloves of peeled garlic, a spoonful of tahini, a good glug of extra-virgin olive oil, and a pinch each of smoked paprika and sea salt. I whiz it all up until smooth and settle on the couch with my favorite trashy TV show for the world's snackiest dinner.
Rotisserie chicken is one of the most overlooked quick meal hacks around. I love to buy mine from my local butcher (just check to make sure it's pasture-raised; Whole Foods Market is usually a good bet) and then shred it, storing it in the fridge to use for recipes all week long. On minimal cooking days, I toss it in quesadillas or pasta blends, but my favorite no-cook way to use it is a Thai satay salad. I chop up whatever hearty veggies I have on hand (I love a mix of purple cabbage, carrot, green onions, and cucumber) then toss it with the chicken. In a small bowl, I whisk together a glug of tamari, toasted sesame oil, a spoonful of almond butter, some garlic powder, and a pinch of salt until smooth, then I toss with the veggie/chicken mixture until coated. It's fresh, filled with umami, and tastes better than Thai takeout—and it's ready in five minutes flat.
While, yes, typical tomato gazpacho also qualifies as a no-cook meal, I always find the traditional recipe to be not satiating enough, leaving me hungry again a few hours later. I started making an avocado version a few years back, and it's so much heartier and more satisfying, thanks to the hefty dose of fat in the avocados—plus, it basically tastes like guacamole became soup. To make it, just blend an avocado, a cucumber, a handful of cilantro, half a red onion, 2 cloves of garlic, 1 seeded jalapeño, the juice of 1 lime, and a cup or so of veggie stock plus salt to taste until smooth (add more stock if necessary). Pulse in a few ice cubes to make it extra cold and voilà: the most refreshing, heart-healthy dinner you can eat, at the perfect cooling temperature.
Want to turn your passion for wellbeing into a fulfilling career? Become a Certified Health Coach! Learn more here.