These Recipes Will Make You Feel Like You're On A Tropical Retreat — Even If You're Stuck At Your Desk
Contributing Food Editor
By Liz Moody
Contributing Food Editor
Liz Moody is a food editor, recipe developer and green smoothie enthusiast. She received her creative writing and psychology degree from The University of California, Berkeley. Moody is the author of two cookbooks: Healthier Together and Glow Pops and the host of the Healthier Together podcast.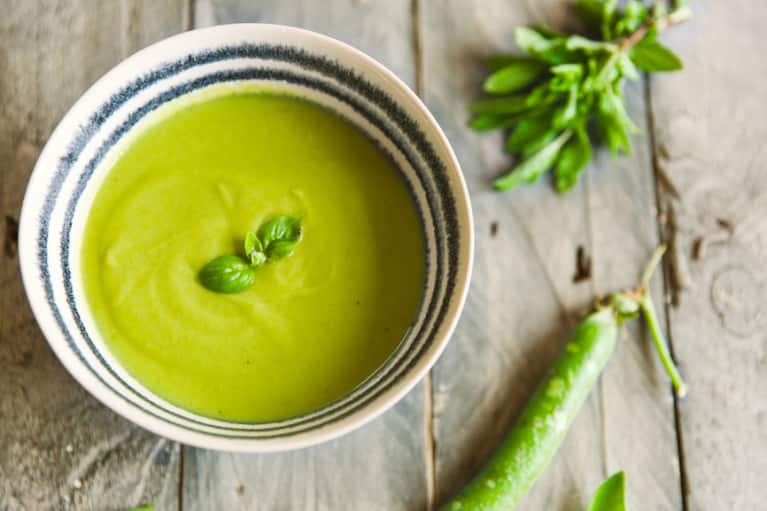 Let's face it—despite what Instagram might have you believe, most of us don't spend weeks on end back-bending our way to Zen at a yoga retreat. That makes it all the more important to make your day-to-day life feel relaxing, Zen, and full of self-care practices that make you feel spine-tinglingly delicious. With that in mind, we reached out to Jeremy Rock Smith, the executive chef at Kripalu Center, an immersive yoga retreat in Massachusetts. Here are his tips (and delicious recipes) for bringing the retreat to your own backyard.
How to plan a perfect yoga retreat menu:
First and foremost, our menus are based upon the Ayurvedic principles of being seasonal, local, and organic wherever possible. We try to incorporate the six tastes from ayurveda as well: sweet, sour, salty, pungent, bitter, and astringent. Outside of those things we strive to create and offer a variety of items that respect that only an individual can really determine what diet is right for their well-being including vegan, dairy-free, gluten-free, grain-free, etc. Whether we're looking at an individual meal, menu, a day of menus, or a week's, we strive for moderation in that there isn't too much of any one thing, whether it be a grain, protein, dessert, or vegetable.
How food can support a yoga practice:
Food obviously provides nutrients and energy for the body, and what we put into it is what we will get out of it. What we fuel our bodies with can enhance or detract from any practice.
Eating really heavy items like beans can really weigh you down.
What foods to always include:
My Ayurvedic peeps always recommend really simple, light, fresh, and vibrant foods before a practice—think veggie and salads!
How to bring the yoga retreat mentality into your home kitchen:
The easiest way is the silent breakfast that we have at Kripalu, which means taking a meal and eating it mindfully, without distractions. By paying attention to how the food makes you feel, you can really allow the body to absorb and digest but also allow it to guide you as to what it needs for optimal well-being.
Here are a few of Jeremy's favorite recipes for getting that retreat vibe from the comfort of your own home.
Serves 4
Ingredients
Dressing
¼ cup organic raw almond butter
1 teaspoon minced ginger root
1 teaspoon minced garlic
3 tablespoons fresh lime juice
¼ cup raw honey or agave
2 tablespoons extra-virgin olive oil
¼ teaspoon cayenne pepper
1 teaspoon sea salt
2 tablespoons chopped cilantro
1¼ cups grated carrots
1¼ cups thinly sliced bok choy
1¼ cups broccoli, small florets
½ cup thinly sliced red radishes
4 cups mixed greens
Combine all ingredients for dressing.
Mix with the rest of ingredients and serve.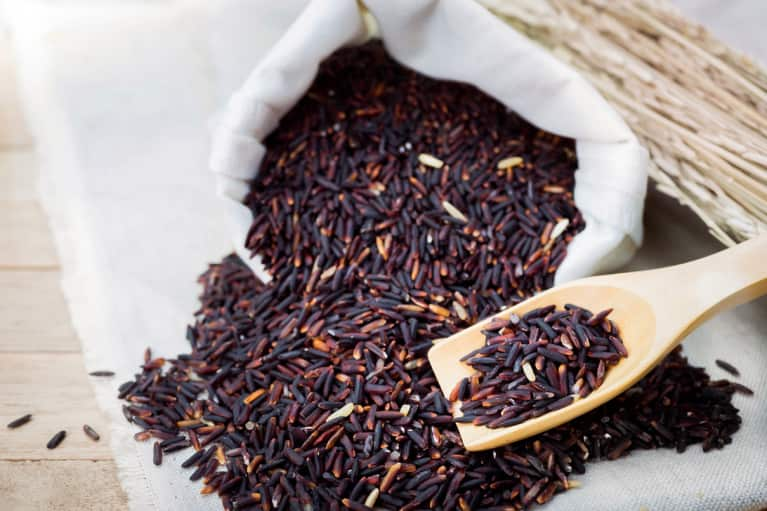 3 tablespoons coconut oil
1½ cup forbidden rice (purple rice)*
1 cup small diced pineapple
½ cup thinly sliced scallions
½ cup toasted slivered almonds
¼ cup small diced red peppers
1 teaspoon sea salt
Rinse rice in a fine-mesh strainer and let drain. In a medium saucepan add coconut oil and rice. Turn flame to medium and cook rice for 3 to 5 minutes stirring frequently until a nutty aroma is released and the rice is toasted. Add 3 cups of water, bring rice to a low simmer, and cook with the lid on for 20 to 25 minutes until rice is cooked. Allow to sit for 5 minutes when done.
Fluff rice with a fork and incorporate the rest of the ingredients stirring until just combined. Serve hot or cold.
*Any variety of rice can be substituted. Just cook as directed by the variety.
Spring Pea, Fennel & Asparagus Soup
¾ cup diced fennel
¾ cup diced leeks
3 tablespoons extra-virgin olive oil or ghee
3½ cups fresh or frozen peas
4 cups vegetable stock
1 cup asparagus, woody ends trimmed, cut into ½-inch spears
½ cup chopped chives
1 teaspoon mint
Juice and zest of 1 lemon
½ teaspoon sea salt
¼ teaspoon freshly ground black pepper
In a large saucepan, sauté fennel and leeks in 1 tablespoon olive oil until cooked through and lightly browned. Add peas and sauté for 2 minutes. Add vegetable stock and bring to a boil. Reduce heat and simmer for 10 minutes.
Toss asparagus with remaining oil and a little salt and pepper. Lay flat on a baking sheet and roast at 350°F for 10 minutes. Let cool before tossing with lemon zest.
Remove soup from heat, and using an immersion blender or blender, puree until smooth. Add salt, pepper, chives, mint, and lemon juice. To serve, divide among four bowls and place the asparagus in each.