It's Official: These Are The Best Healthy Halloween Recipes On The Internet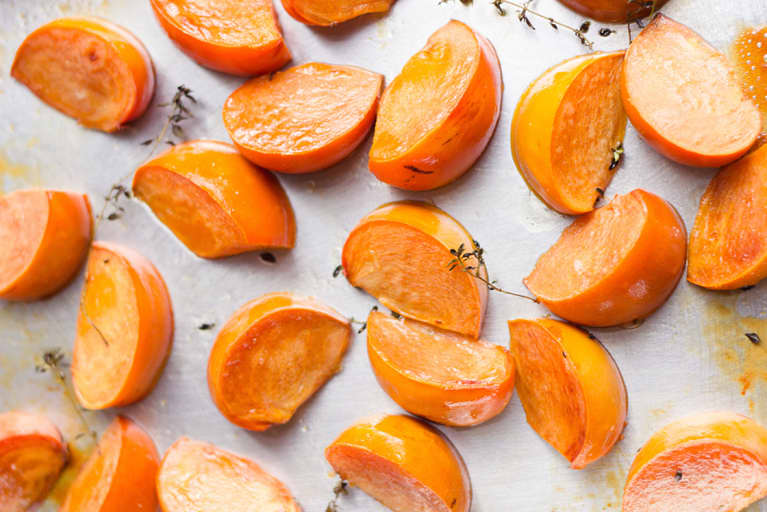 If you're all trick-or-treated out after a weekend of festivities, may we suggest a nice Halloween at home? We rounded up the best healthy Halloween treats on the web, to make a night spent in the kitchen feel oh-so-festive.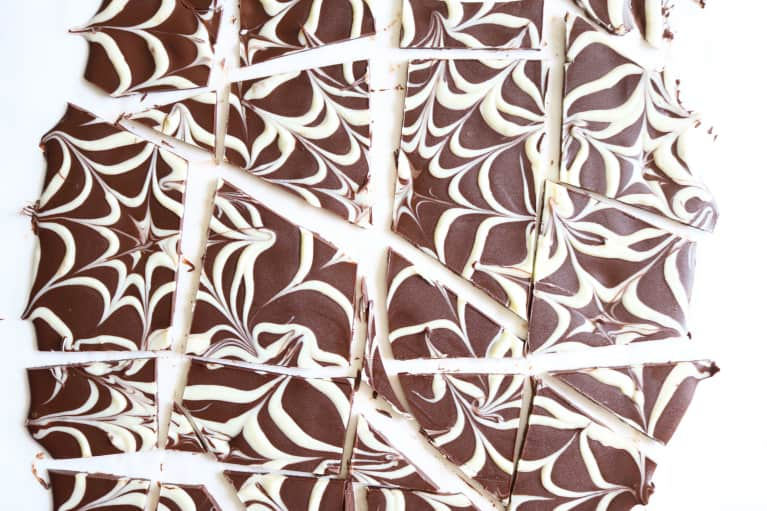 "I love this three-ingredient chocolate spiderweb bark because it's so simple to make, so pretty to look at, and so fun to eat!" says Lindsay G. Freedman, founder of The Toasted Pinenut. "It's the perfect treat for your Halloween parties or for yourself as you wait for those trick or treaters!" Get the full recipe here.
Halloween Banana Ice Pops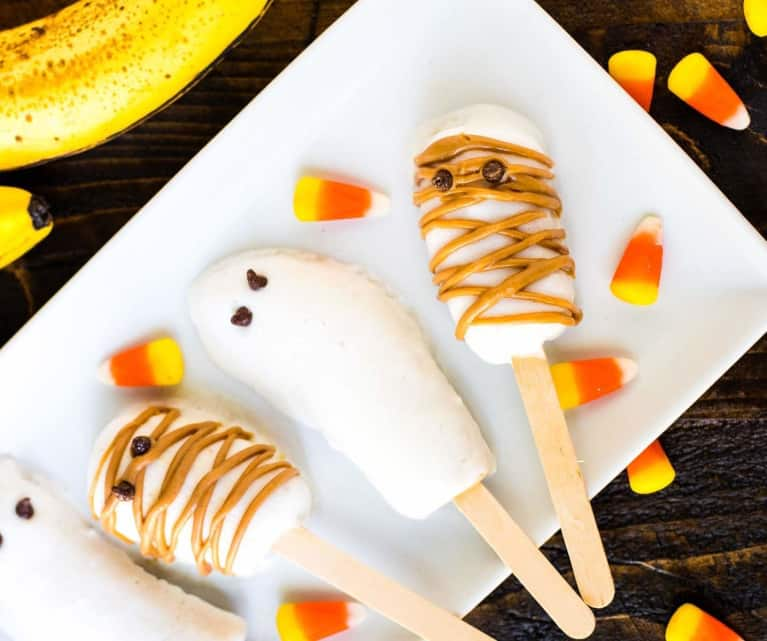 "I love these Halloween 'Boo-Nana' Ghost and Mummy Pops (frozen bananas dipped in sweet vanilla yogurt and decorated with PB), because they are *almost* as fun to make as they are to eat!" says Erin Clarke, founder of Well Plated. "Kids can get involved, and they provide a wholesome alternative to candy." Get the full recipe here.
Trail Mix Coconut Butter Cups
"These homemade chocolate coconut butter cups are so easy to whip up and taste way better than store-bought candy," says Brittany Mullins, founder of Eating Bird Food. "You'll love the combo of coconut butter and chocolate with a sprinkle of trail mix. They're vegan, gluten-free and paleo-friendly." Get the full recipe here.
Peanut Butter Date Caramel Chocolates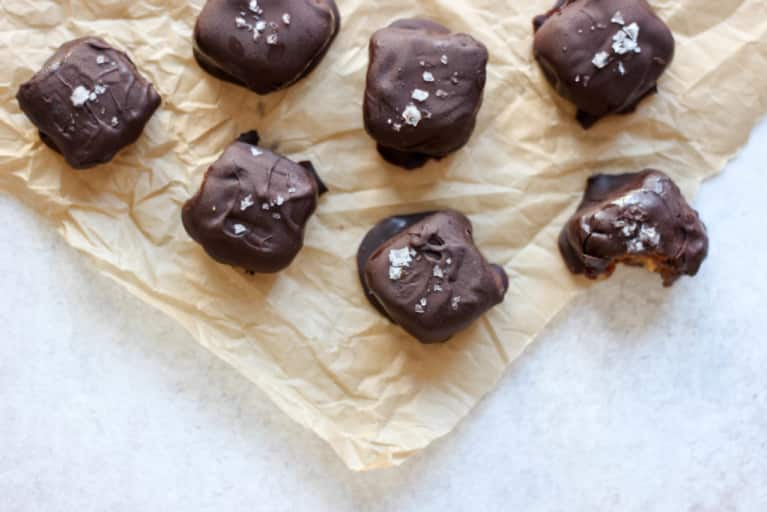 "I love these date caramels because they're simple to make with four ingredients that I usually have in the house," says Leah Vanderveldt, cookbook author and founder of the Nourish Exchange. "They taste decadent without processed sugars or additives like most candy—just simple, whole ingredients and a little dark chocolate for good measure." Get the full recipe here.
Matcha Panna Cotta with Muddled Raspberries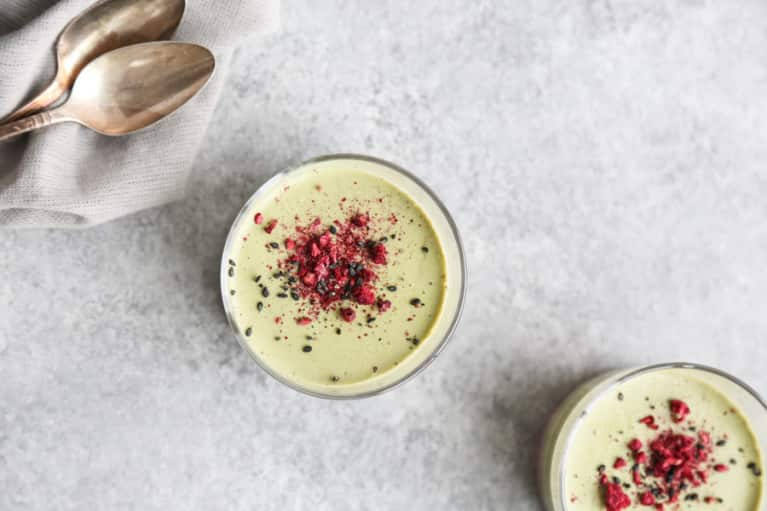 "These minimally sweetened pudding cups are not only packed with antioxidant-rich matcha powder and grass-fed gelatin, but they give you a cool two-tone palette to craft your perfect spooky vibe," says Phoebe Lapine, mbg class instructor and founder of Feed Me Phoebe. "Bloody muddled raspberries and green, ghoulish pudding for the win!" Get the full recipe here.
Flourless Tahini Chocolate Cake With Pomegranate Compote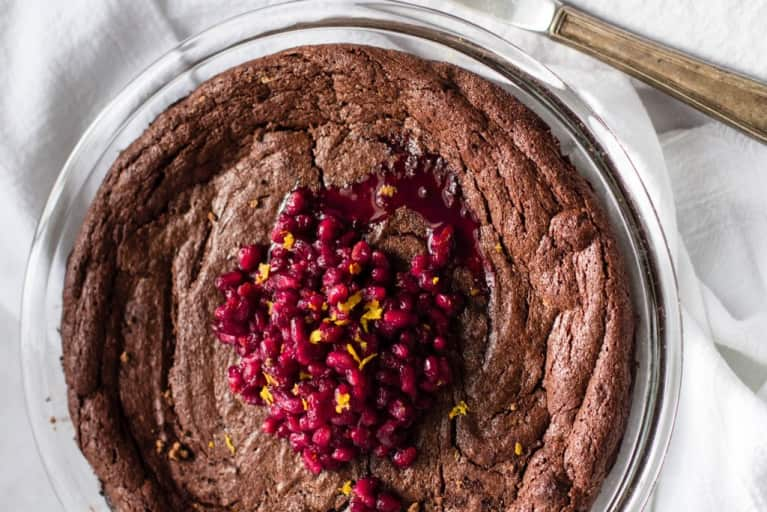 "This cake has the perfect spooky Halloween colors and flavors," says Kim Suddeath, the R.D. who created it. "It's also flourless and made with dark chocolate and pomegranates, which are both antioxidant-rich—plus tahini, a good source of plant-based calcium." Get the full recipe here.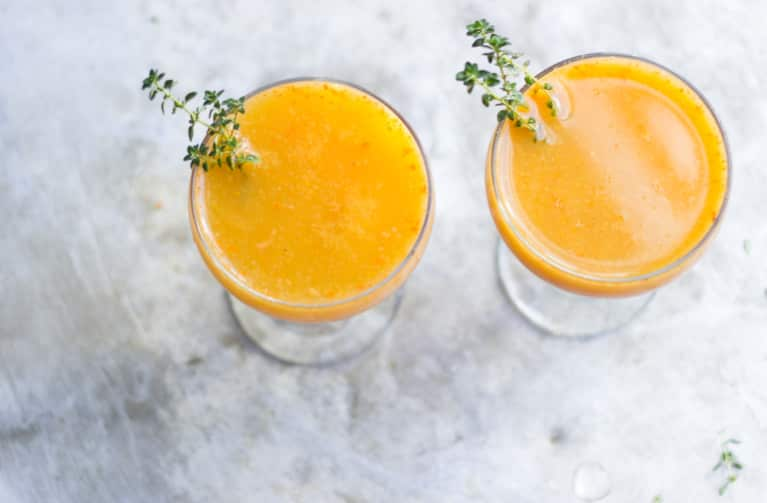 If you're looking to mix it up with a beverage this Halloween, With Food and Love founder Sherrie Castellano has you covered. "My favorite kind of cocktails are naturally sweetened with fruit and made complex with herbs and spices," she says. "This Persimmon Punch does both of those things. The best part is its own orange color, which is perfect for Halloween night or your Thanksgiving table." Get the full recipe here.
Almond Flour Pumpkin Chocolate Chip Protein Pancakes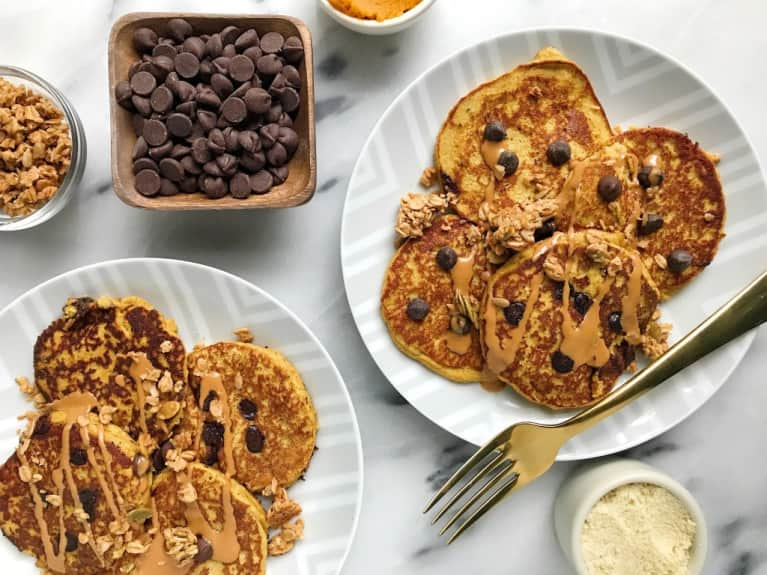 "Don't get me wrong, I am all about the chocolate and candy on Halloween, but I like to start off the day with something festive and sweet like these Almond Flour Pumpkin Chocolate Chip Protein Pancakes," says Insta-superstar Rachel Mansfield. "They are so easy to make, packed with plant-based protein, and you can drizzle your favorite chocolate on top as the 'syrup.'" Get the full recipe here.
Chia Seed Peanut Butter Cups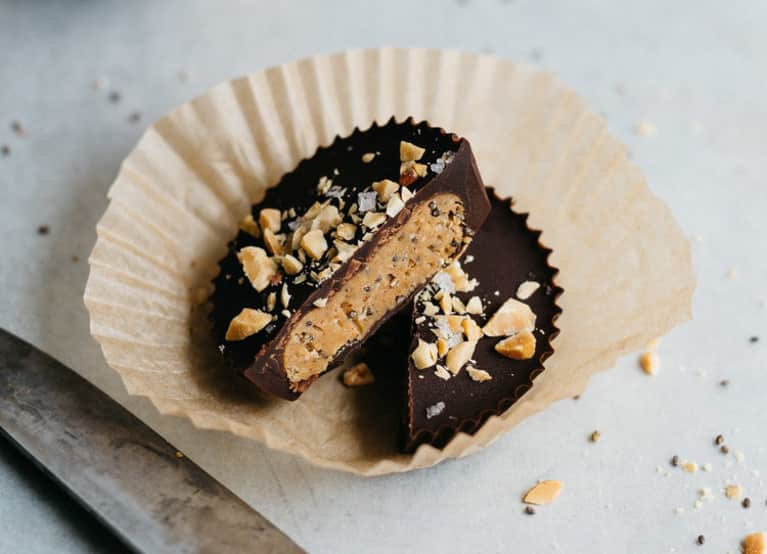 "The recipe is a short list of pantry ingredients," says Lindsey Love, founder of Dolly and Oatmeal. "I love them because they're homemade, have good ingredients, and you don't miss the store-bought variety at all. Plus, they're gluten-free, dairy-free, and the chia seeds pack in a good amount of fiber and omega-3 fatty acids." Get the full recipe here.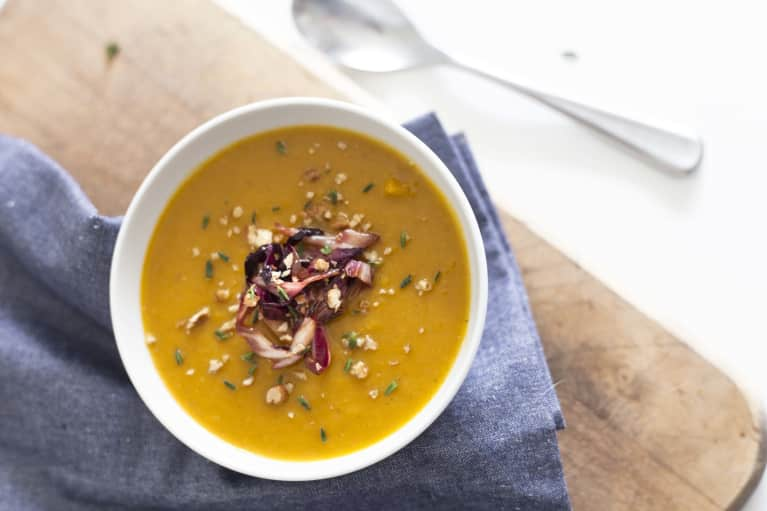 If you prefer your treats to be a bit heartier and more savory, Carlene Thomas, R.D. and mbg's Next Great Nutritionist winner, has your back. "This creamy pumpkin soup actually is creamless," she says. "It's velvety and rich but without heavy cream. Paired with flavor-balancing tart green apple and bitter radicchio, it keeps pumpkin soup from feeling one note and bland." Get the full recipe here.
Bloody Rice Krispie Treats
"These healthy Rice Krispie treats are a Halloween favorite because they're made with nut butter and maple syrup—meaning NO artificial ingredients or gelatin," says Leah Silberman, R.D. and founder of Tovita Nutrition. "Feel free to top them with a homemade bloody-looking berry compote or a dark-chocolate drizzle (or enjoy them plain)!" Get the full recipe here.
Pumpkin Chocolate Chip Bars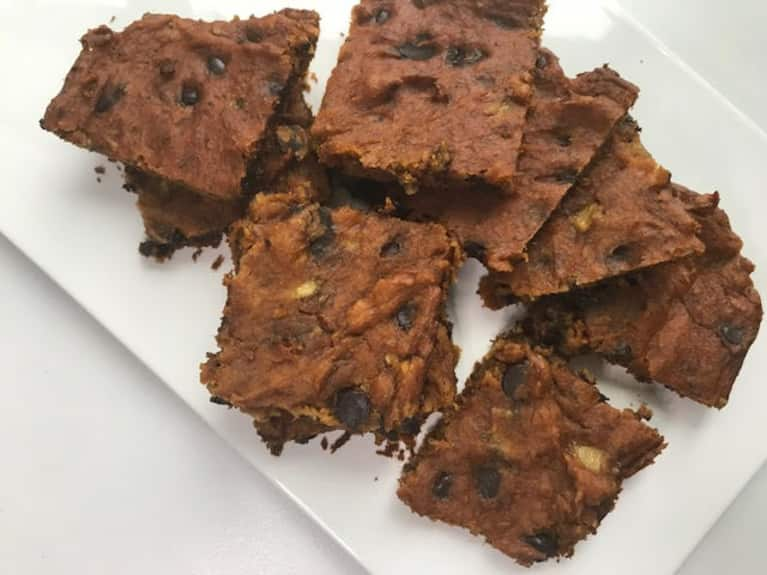 "I love my pumpkin chocolate chip bars," says Isabel Smith, R.D. "They're almost paleo (use almond butter instead), gluten-free, and vegan. They have just a touch of honey and otherwise are naturally sweetened with banana and the chocolate chips. They're a great treat to bring with you to the office or share with friends and family this Halloween!" Get the full recipe here.
Want to turn your passion for wellbeing into a fulfilling career? Become a Certified Health Coach! Learn more here.