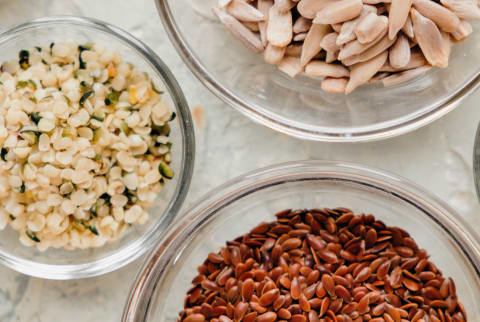 Image by Nataša Mandić / Stocksy
November 12, 2010
Similar to the traditional Greek sesame candy "Pasteli," which is made with honey and sesame seeds, these superfood candies take advantage of yacon syrup's more complex flavor and healthy benefits. Crunchy and chewy at the same time, these all-natural candies are addictingly delicious. If you cannot find pre-roasted/toasted sesame seeds, use raw ones — just pop them in the oven for 5 minutes at 350 degrees ahead of time.
½ cup toasted sesame seeds
Over medium-low heat, warm the yacon syrup for a minute until it gets bubbly. Reduce the heat to low, add the seeds, and simmer for 3-4 minutes longer, stirring constantly.
Spread the mixture onto the pre-oiled tray into about a ¼ inch layer. Let cool completely (about 15-20 minutes). Use kitchen scissors to cut into squares or desired shape. Makes about 2 dozen candies.

Julie Morris
Julie Morris is a Los Angeles-based natural food chef, superfood expert, and bestselling author of 5 books including Superfood Soups, Superfood Snacks, Superfood Smoothies, Superfood Juices, and Superfood Kitchen. She has worked in the natural food industry for a decade as a recipe developer, culinary writer, on-camera personality, national speaker, and is an active advocate for whole, plant-based foods and superfoods for optimal health. Her mission is simple: to share recipes and nutrition tips that make a vibrantly healthy lifestyle both easy to achieve and delicious to follow.
For more of Julie's superfood kitchen, visit her at JulieMorris.net, or through her social media channels: Facebook, Twitter, and Instagram.