This Superfood Salad Has 2 Secret Ingredients That Reverse Skin Aging
Contributing Food Editor
By Liz Moody
Contributing Food Editor
Liz Moody is a food editor, recipe developer and green smoothie enthusiast. She received her creative writing and psychology degree from The University of California, Berkeley. Moody is the author of two cookbooks: Healthier Together and Glow Pops and the host of the Healthier Together podcast.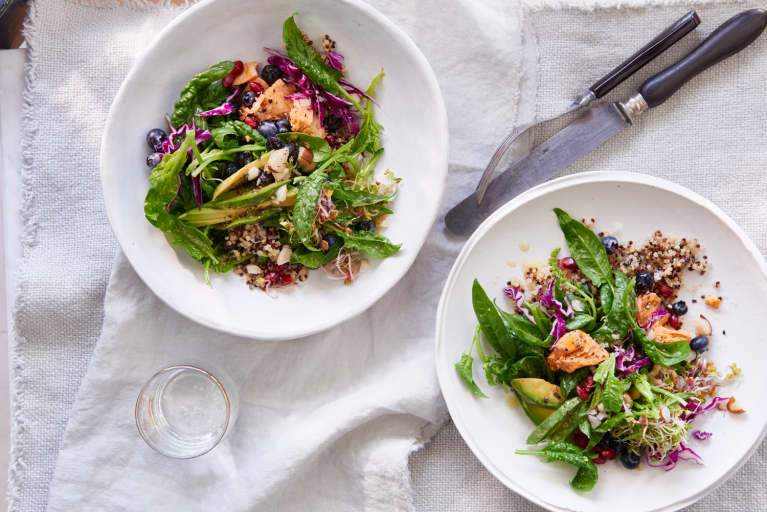 Our editors have independently chosen the products listed on this page. If you purchase something mentioned in this article, we may
earn a small commission
.
Pamela Salzman is the cooking teacher celebrities love (Molly Sims says Pamela's tips have changed her life), and her new book Kitchen Matters captures the same easy, frank approach to healthful eating. This salad is a perfect example—it comes together in 2 minutes, and is packed with almost every skin-loving superfood on the planet. "Fruits and vegetables, especially dark leafies like spinach, contain powerful antioxidants to combat damage caused by free radicals, the enemy of youthful skin," explains Pamela. "Ideal choices include spinach and blueberries; this salad has both. Consuming high-quality fats like olive oil, avocado, wild salmon, and Brazil nuts suppresses inflammation and keep cell walls supple. Wild salmon also contains a compound which helps strengthen cell membranes and prevent premature aging, and the selenium in Brazil nuts can boost collagen production and preserve elastin." Did she mention it's incredibly fresh and delicious?
Serves 4 to 6
There is no universal agreement as to which foods fit the "superfoods" bill. In my opinion, a superfood is a nutritional powerhouse that contains a crazy amount of antioxidants, vitamins, minerals, and phytonutrients. There are a lot of superfoods, and by no means does this mean you should eat as many of them as you want in one sitting or that you should limit your diet to so-called superfoods. It's important to have variety in what we eat. My solution? I decided to take my favorite "superfoods" and put them all into a salad—for an incredibly delicious result. I think you'll not only enjoy this salad, but you'll feel energized and healthier after eating it.
Dressing Ingredients
1 medium-size garlic clove, minced
½ teaspoon sea salt
Freshly ground black pepper
½ teaspoon Dijon mustard
2 teaspoons pure Grade A or B maple syrup or raw honey (not vegan)
2 tablespoons raw cider vinegar
6 tablespoons unrefined, cold-pressed extra-virgin olive oil
8 cups baby spinach leaves (about 5 ounces)
1½ cups cooked quinoa
2 cups finely chopped red cabbage
1 cup blueberries or pomegranate seeds (whichever is in season)
¼ cup chopped Brazil nuts
1 cup broccoli sprouts or sprouts of choice (about 2 ounces)
1 (6- to 7-ounce) can wild salmon, preferably without bones (optional; omit for vegan/vegetarian)
1 large avocado, peeled, pitted, and cubed
Prepare the dressing: Whisk together the dressing ingredients in a medium-size bowl or shake in a jar with a screw-top lid.
Combine all the remaining ingredients in a large bowl and toss to coat with the dressing.