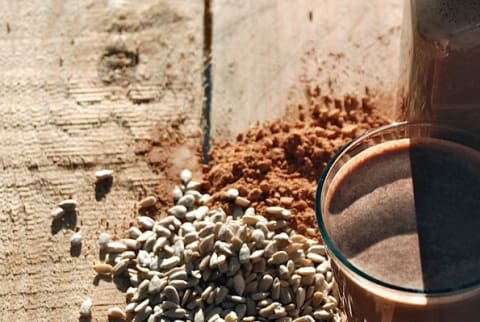 February 5, 2014
This super chocolate-y sunflower "milk" is a divine treat and it's full of powerful superfoods that will keep your energy soaring.
Using raw cacao means you're adding valuable minerals and antioxidants while the soaked sunflower seeds deliver a nutrient-dense protein punch. You can control the sweetness with the dates—four is a great start, but add one or two more if you want more whole food sweetness.
Superfood Chocolate Sunflower Milk
3 cups Water
1 cup soaked sunflower seeds
4-6 Medjool dates, pitted
2 tablespoons raw cacao
1/2 teaspoon vanilla extract
Soak raw sunflower seeds by covering them with water in a bowl for at least 4 hours or overnight in the fridge.
Drain and rinse and they are ready to go.
Blend all ingredients and enjoy.
You can store in the fridge and drink within four days.
Deb Gleason
Gleason is a Certified Holistic Nutritionist, Vegan Lifestyle Coach and Founder of debgleason.net. When not empowering people to take control of their own health through their diet she is busy creating new recipes and following her dogs around in beautiful spaces. As a former Homicide Detective she now knows that cheeseburgers are more deadly than guns. She's chosen to dedicate her life to helping people secure their health through a clean and powerful diet as they lighten up their impact on the planet and the animals we all share it with.