Close Banner
Advertisement
This ad is displayed using third party content and we do not control its accessibility features.

Registered Yoga Teacher
By Julie Wilcox, M.S.
Registered Yoga Teacher
Julie Wilcox is a registered yoga teacher and has a masters of science in nutrition and dietetics from NYU.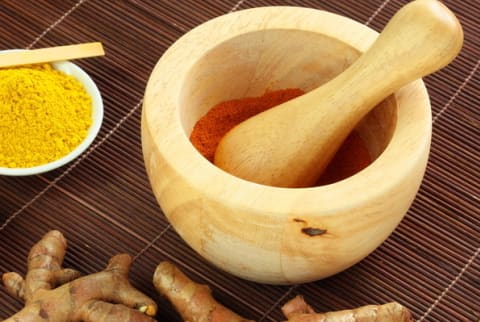 Photo by Shutterstock.com
Rich and earthy in flavor, turmeric is wonderful to have handy in your kitchen for cooking purposes as well as for your health and longevity. Recent studies show that if eaten as a regular part of a diet, turmeric can prevent and slow the progression of Alzheimer's disease. Additionally, this super spice can protect various cancers and pre-existing cancers from spreading. It's also been used in Chinese medicine for years to treat depression.
So start sprinkling Turmeric over your favorite curries or on top of salads! Here's one of my favorite Turmeric recipes:
Turmeric and Miso Vinaigrette
1 tsp white miso paste
1 tsp apple cider vinegar
2 tsp olive oil
a squeeze of honey
1/4 tsp turmeric
sesame seeds to your liking.
1. Whisk all ingredients together in a bowl. The measurements don't have to be exact; you can adjust to your own flavor preferences.
2. Salt and pepper to taste.
3. Enjoy over your favorite salad!