Tossed Elotes With Roasted Poblano Pepper & Cotija Cheese

Recipe Developer
By Bricia Lopez
Recipe Developer
Bricia Lopez is a cookbook author, entrepreneur, and cultural ambassador. Her cookbook, Oaxaca: Home Cooking from the Heart of Mexico, published in fall 2019, was a 2020 James Beard nominee and became an Amazon bestseller with more than 750 five-star reviews.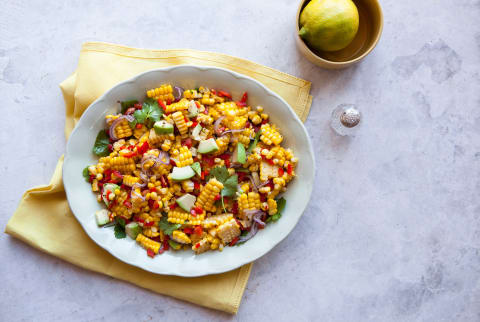 Image by Nadine Greeff / Stocksy
July 27, 2023
We carefully vet all products and services featured on mindbodygreen using our
commerce guidelines.
Our selections are never influenced by the commissions earned from our links.
This genius salad transforms a roasted poblano chile into a dressing. It uses a lot of the staple ingredients found in a Mexican family's kitchen but in a slightly different way. When it's peak corn season and fresh corn is tasting its sweetest, this salad feels like the best side dish for a carne asada of all time.
Ingredients
5 ears sweet white corn, shucked and halved crosswise
1 poblano chile (3½ ounces/100 g), cored, stems and seeds removed, cut in half
⅓ cup (75 ml) fresh lemon juice
½ cup (120 ml) olive oil
2 tablespoons champagne vinegar
1 teaspoon cane sugar
½ teaspoon ground cumin
¼ teaspoon finely minced garlic
1 tablespoon plus 1 teaspoon whole-grain mustard
2 teaspoons sea salt
1 teaspoon cayenne pepper
For garnish:
½ cup (15 g) roughly chopped fresh parsley
½ cup (60 g) crumbled fresh cotija
Method
Start a charcoal or gas grill. The gas should be set to high. If using a pellet grill, preheat your grill to 425°F (220°C) for at least 15 minutes. If using charcoal, the coals should be red but entirely covered with gray ash.
Place the corn and poblano directly on the grill. Grill them for about 20 minutes, flipping constantly, until charred. Remove from the grill. In a blender, add the roasted poblano, lemon juice, olive oil, vinegar, sugar, cumin, garlic, mustard, salt, and cayenne. Blend until smooth.
Remove the corn kernels by standing the cob upright and carefully shaving the kernels off from top to bottom using a chef's knife. Rotate the cob to make sure to shave all sides of the corn.
Toss the corn with the poblano dressing. Top the salad with the chopped parsley and fresh cotija.
This tossed elote can be made up to 5 hours ahead.
From ASADA: The Art of Mexican-Style Grilling © 2023 by Bricia Lopez. Excerpted by permission of Abrams Books. All rights reserved. No part of this excerpt may be reproduced or reprinted without permission in writing from the publisher.

Bricia Lopez
Recipe Developer
Bricia Lopez is an entrepreneur, cultural ambassador, and key figure in the Los Angeles gastronomic scene. With her family's James Beard Award–winning restaurant, Guelaguetza, in Los Angeles's Koreatown, she and her siblings have put Oaxacan cuisine and culture at the forefront of today's dynamic culinary scene. Her influence extends to the beverage industry, too. The New Yorker called Bricia the "queen of mezcal." In 2019, she helped open Las Vegas's first-ever mezcal bar—Mama Rabbit, inside the Park MGM. Her cookbook, Oaxaca: Home Cooking from the Heart of Mexico, published in fall 2019, was a 2020 James Beard nominee and became an Amazon bestseller with more than 750 five-star reviews.
Bricia and her siblings launched two direct-to-consumer brands: a proprietary michelada cocktail called I Love Micheladas™ and Guelaguetza™ mole pastes. Their products can also be found at hundreds of retailers across California. She has expanded her success into the digital world by launching the Super Mamas podcast with her sister Paulina and her blog Mole and More, where she shares simple recipes to cook at home with family. Bricia also holds lifestyle content creation partnerships with major brands. The mayor of Los Angeles appointed Bricia to the board of convention and tourism development in March 2019, and in 2020 she cofounded RE:Her, a nonprofit devoted to the advancement and empowerment of women restaurateurs. She lives in Los Angeles with her husband Eduardo, son, and daughter and frequently travels to Oaxaca.