Close Banner
Advertisement
This ad is displayed using third party content and we do not control its accessibility features.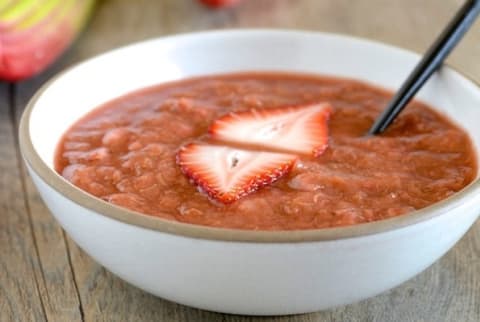 Taking full advantage of the bounty of spring, this strawberry and rhubarb compote makes a tasty dessert or snack that also works nicely as a topping for pancakes or ice cream. Gently stewed with a touch of ginger and lime, it not only has the familiarity of a childhood comfort food, but also the complexity of flavor that adults appreciate.
The best part? It only takes a few short minutes to prepare. So run, do not walk, to your local farmers market for the ingredients and try it. You won't regret it.
Strawberry, Rhubarb & Ginger Compote
Servings: Makes about 3 cups
1 lb. rhubarb stalks (red or green or combination, about 4 stalks), thinly sliced
1 lb. strawberries, chopped small
1/2 cup coconut palm sugar
3-inch piece fresh ginger, minced small
2 vanilla beans, seeded
1/4 cup lime juice
1/3 cup water
Add all the ingredients to a medium saucepan. Bring to a boil, then reduce to a simmer. Allow to cook, stirring occasionally, until rhubarb and strawberries are soft, about 8-10 minutes.
Using a potato masher or large spoon, crush down the fruit until roughly puréed.
Serve immediately or refrigerate for later use. Compote will continue to thicken as it cools.