Pharmacist & Holistic Nutritionist
By Ashley Madden
Pharmacist & Holistic Nutritionist
Ashley Madden is a pharmacist, holistic nutritionist, and plant-based chef.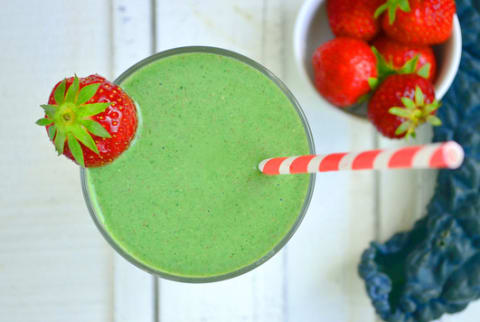 September 28, 2016
Strawberries and hearty greens!
This combination is one of my absolute favorites, but I've always hesitated to share it.
Why? Because this green smoothie concoction never has the right look. In a world of bright and happy green smoothies, this one generally looks a little down and out.
Red and green mix to make a boring brownish hue and, and while I definitely don't judge a smoothie by its color (most of my smoothies resemble sludge), I don't rush to take photographs and share; it just doesn't look good. #sadsmoothie
One particular morning while sipping this super-healthy smoothie, I decided it needed a social media upgrade. I knew a bright, vibrant green was out of the question but decided to bump up the green stuff and see if it made a difference.
And oh yeah it did! Bumping up the kale and tossing in some wheatgrass made this green smoothie a little greener, and, nutritionally speaking, it's a homerun!
Kale, wheatgrass, flaxseed, and strawberries take the nutrient density of this smoothie off the charts.
This strawberry and kale smoothie is for the green at heart who still fancy a little sweetness, thanks to the berries and banana. Here it is, the greenest of brown smoothies!
Strawberry Green Smoothie
1 cup of packed kale
1 cup fresh strawberries
1 small frozen banana
1 tablespoon ground flaxseed
1 tablespoon hemp hearts (aka hemp seeds)
1 teaspoon wheatgrass powder (or chlorella or spirulina)
1 cup unsweetened almond or soy milk
½ teaspoon vanilla
¼ teaspoon cinnamon
2 ice cubes
1. Add all ingredients to a blender and blend until smooth. If using frozen strawberries, omit the ice cubes and add an additional ¼ cup milk.
2. And for you real green lovers out there, leave out the banana to get the greenest experience!

Ashley Madden
Pharmacist & Holistic Nutritionist
Ashley Madden is a pharmacist, holistic nutritionist, plant-based chef and, just like you, trying to figure it all out: eat healthy, manage stress, sleep more, stay inspired, all the while enjoying life and taking it one day at a time.