Want To Make Fermented Food At Home? This Expert Recommends Starting With Bread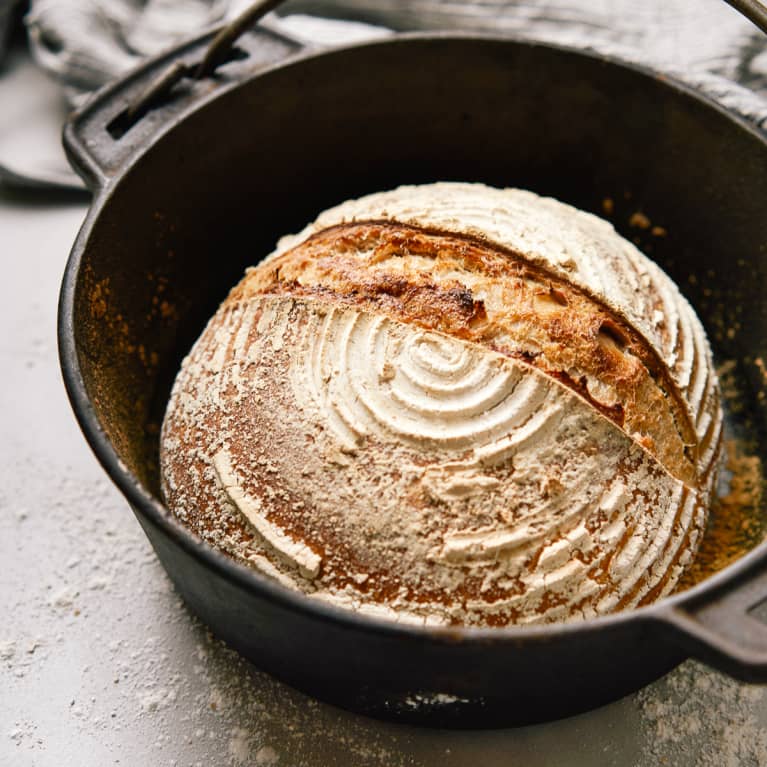 Our editors have independently chosen the products listed on this page. If you purchase something mentioned in this article, we may
earn a small commission
.
When we think of fermented foods and all their benefits, it's usually kimchi and kombucha that come to mind—but the truth is many other enduring foods have their roots in fermentation. Chief among those? Wine, cheese, and bread—which is, incidentally, also the title of fermentation wiz Katie Quinn's new book.
Within a few moments of (virtually) meeting her, I knew it was going to be a great conversation—and I wasn't let down. A veritable encyclopedia of the way fermentation, and these foods, are a part of global cuisine, we were off to the races with topics before I even got to the questions I had planned. And she has thoughts about the way one traditionally fermented food has been changed over the years:
"Gluten has gotten such a bad rap, but often it's all of the different things that are put in bread," she told me, "the added yeast, the things that make it rise faster—so that bread is reacting to the industry of pumping out bread quickly." But the traditional practices of bread making (like sourdough) are actually practices in a slow fermentation. "When we try to speed up fermentation, it reacts badly to our bodies," she told me. "[Fermentation] predigests those elements of food that make it harder for us to digest."
Fermentation (and all the science that goes with it) may seem intimidating—but that doesn't have to be the case. And for Quinn, bread is actually the best entry-level fermenting project for anyone who wants to give it a try.
Why bread is the best first fermentation project.
If you didn't join the sourdough movement at the start of lockdown, consider this your sign to jump on it now. (In fact, after my chat with Quinn, I was so excited, I started prepping a new sourdough starter to replace the failed one from a year ago.)
"I think bread is the best place to start," she explained. "Sourdough captured my heart, and it has transformed our home." And to those who hesitate because they think it might be too hard, she says, "If anyone has any doubts about if they can keep the starter alive: If I can do this, anyone can. I was not a bread baker. It is so doable." It comes down to one simple fact: Bread is more forgiving than you may think.
Her top 3 tips for sourdough.
If you're still feeling overwhelmed, I did pick Quinn's expert brain for some tips on getting more comfortable with your breadmaking process—including getting your starter up and running:
The container: "I use a glass container. I think it's good to see the rising and falling, to see that it's healthy and active. You could do a screw top, but don't screw it all the way on. It should be completely sealed off, but not tight."
Instead of feeding and tossing your starter every day: "You want to feed it every day until it gets to be a healthy thriving starter. [Once it's ready, feed your starter weekly], and then store it in the fridge. When you want to make a loaf, take out [your starter] the day before, feed it, then the next day it will be ready to incorporate."
The type of flour to use: "For feeding, I have found that my starter likes rye flour. Often I'll do a mix: half rye flour, half AP flour, or a little bit of bread flour and a little bit of rye flour. Kinda what I have on hand."
These days, Quinn says that her sourdough is part of her routine—and she honestly feels it "goes on to improve the quality of your life in some ways," even aside from the obvious benefit of having fresh, homemade bread.
"I felt, almost on a cellular level, drawn to these items," she told me, "and I felt grounded in them. These are some of humanity's oldest and most essential things. Encyclopedias have been written on this stuff, and even dedicating an entire book, I still feel like there weren't enough pages. To just briefly touch on it, when you consider that the ancient Romans carried wine—to think that we're still drinking what they drank, and what was a major part of their dinner tables—it's kind of transformative and connecting."
If this hasn't managed to convince you to start your own sourdough journey, maybe this list of all the super-tasty things you can do with starter beyond bread will.