The Solawave Memorial Day Sale Is Here & You Can Save 25% On A Red Light Wand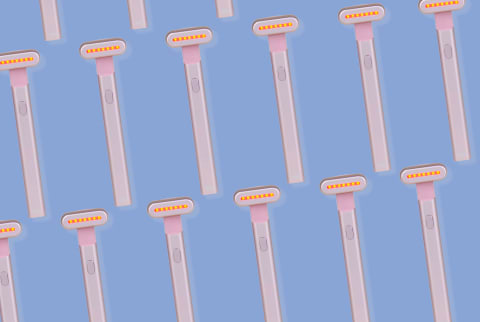 May 28, 2023
We carefully vet all products and services featured on mindbodygreen using our
commerce guidelines.
Our selections are never influenced by the commissions earned from our links.
Last year, a slew of TikTok videos led me to put the viral Solawave Skincare Wand to the test, and it fully lived up to the hype. Six months later, this sleek device is still one of my most-used skin care tools. Since implementing the device into my routine, I've noticed a significant decrease in redness and under-eye puffiness, as well as plumper skin and a more sculpted jawline.
What is the Solawave wand?
The four-in-one skin care tool combines red light and heat therapy with microcurrent waves and a gentle massager to bring a slew of benefits to your skin. The brand says the wand can minimize wrinkles, fine lines, dark circles, and blemishes.
And I've personally experienced all of the above.
Of course, you need to use the Solawave wand regularly to see the benefit. For best results, the Solawave should be used at least three times per week. If this sounds like a lot, hear me out: It only takes five minutes. I'm very selective about adding steps to my skin care regimen, and these few minutes have paid off in spades (and in compliments, too).
How do you use the Solawave wand?
The process is simple; glide the wand in an upward motion on clean, moisturized skin. While the original design is sensor-activated to turn on as soon as it feels moisture, the Radiant Renewal Skincare Wand comes with an on-off switch. The brand recommends using either wand with its hydrating serum (made with hyaluronic acid), but I tend to use my own serum or oil.
Depending which area you're gliding over, you can rotate the head of the device to make things even easier. The new wand has 180-degree head rotation, whereas the original rotates just 90 degrees (an improvement I'm particularly excited about).
You can also find a ton of videos on the brand's site with tips on how to use the Solawave.
Not sure which Solawave wand is right for you? Before we dive deeper into the benefits of red light therapy, let's compare the two devices:
| Product | Price | Features | LED Lights | Head rotation | Travel pouch | Power | Red Light Wavelength | Batter Life | Max Temperature |
| --- | --- | --- | --- | --- | --- | --- | --- | --- | --- |
| Solawave Skincare Wand | $149 | red light therapy; microcurrent therapy; facial massage; therapeutic warmth | 5 | 180 degrees | No | Sensor-activated | 630nm | 90 minutes | 107 degrees Fahrenheit |
| Radiant Renewal Skincare Wand | $169 | red light therapy; Galvanic current therapy; facial massage; therapeutic warmth | 7 | 90 degrees | Yes | On-off button | 630nm | 90 minutes | 107 degrees Fahrenheit |
Benefits of the Solawave
I think a huge factor in the noticeable difference in my skin came from red light therapy, or when the skin is exposed to red and near-infrared light at certain wavelengths. It's been used to stimulate collagen, improve fine lines and wrinkles, and promote the healing of scars and wounds. While research is still ongoing about the benefits of red light therapy for skin, one study found that using red light technology twice a week resulted in improved skin tone1, skin smoothness, and increased collagen density.
There's less research around microcurrent technology, but experts often use this therapy for muscle toning, collagen and elastin production, increased product absorption, and to reduce the visibility of wrinkles.
Master esthetician Sarah Akram previously told mindbodygreen, "A brighter and more radiant complexion is achieved after just one [LED light therapy] session. But completing multiple sessions will yield greater results over time."
My skin has been prone to redness for years, and the Solawave has been a lifesaver in this department. I love to see the visible difference in puffiness when I use the wand on one side of my face versus the other. These results can be seen immediately—but Akram was right: The long-term impact is even better. My skin has a glow that it didn't have pre-Solawave. And I swear my cheekbones are more lifted!
The takeaway
Even though I didn't get to take advantage of the current markdown, the Solawave has still saved me hundreds in spa treatments and professional facials. This device has earned a permanent spot in my skin care lineup. Take advantage of the brand's rare flash sale and score 25% off the Solawave or the Radiant Renewal Wand—so you can see the results for yourself.

Carleigh Ferrante
mbg Commerce Editor
Carleigh Ferrante is the Commerce Editor at mindbodygreen. She is a certified Health & Nutrition Coach and a born and raised New Yorker with a B.A. in Creative Writing and Psychology. Her work has appeared in Bustle, The Zoe Report, PureWow, The Everygirl, and more, covering topics such as fitness, travel, home, fashion, beauty, and dating, sex, and relationships. When she's not testing and reviewing products and services, you can find Carleigh training for her next World Major marathon, planning her next vacation, or interviewing experts on her dating podcast, Mostly Balanced.