Make Your Summer Meals Pop With These Bright & Briny Pickled Onions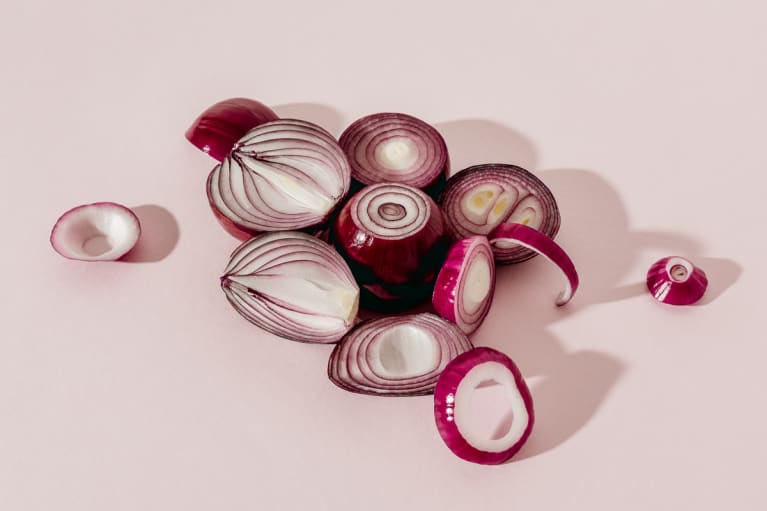 In case you didn't know, you can pickle just about anything (even berries!). But pickled onions are one of our favorite options for an easy way to add a bright bite to your favorite dishes, from breakfast right through dinner.
That's why we were so excited to see registered dietitians Wendy Lopez, M.S., RDN, and Jessica Jones, M.S., R.D., CDN, sharing this recipe on their Instagram, @foodheaven. The sliced onions need only sit in the brine overnight to take on the flavor, and they're also just as bright a pop of color on your favorite dishes as they are a pop of flavor.
"Pickled onions just make everything better," the caption says. "They help to awaken even the most basic meals, and I love adding them to sandwiches, quesadillas, tostadas, and egg scrambles." Here's how to make them yourself:
1 small onion, thinly sliced
¾ cup apple cider vinegar
½ cup water
½ teaspoon salt
½ tablespoon sugar (for an mbg-approved swap, add honey)
Pack the onions into a medium-sized glass jar. In a small pot, add the vinegar, water, salt, and sugar, and bring to a boil.
Add the hot water/vinegar mix to the jar with the onions, so that all onions are covered. If you need a little more liquid, you can top with hot water. Place the lid on tightly, let the jar cool, and leave in the fridge overnight.
You can store for up to 2 weeks! My jar is empty within days. Enjoy!
Want to get even more into pickling? Check out our guide to homemade pickles to learn all about this process (and the benefits you can get from true pickled foods).