Savory Chickpea Pancakes With Goat Cheese & Warm Summer Vegetables

Recipe Developer
By Susan Spungen
Recipe Developer
Susan Spungen is a cook, food stylist, recipe developer, and cookbook author. She was the founding food editor at Martha Stewart Living Omnimedia from its inception until 2003.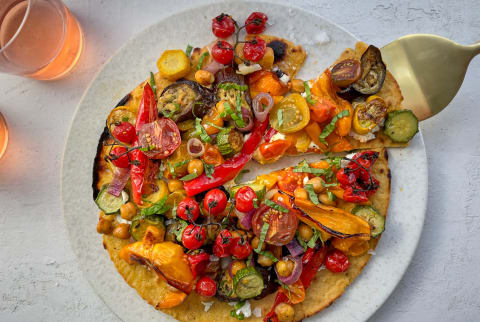 July 29, 2023
We carefully vet all products and services featured on mindbodygreen using our
commerce guidelines.
Our selections are never influenced by the commissions earned from our links.
Ratatouille is conclusive proof that what grows together goes together. In the classic version, each vegetable is cooked separately and then they are stewed together until creamy and homogeneous. My take is decidedly fresher and faster. The vegetables are roasted briefly on a sheet pan so they retain their individual characters.
They're served on the crisp Provençal chickpea pancake, socca, creating a delightful pizza-like (but gluten-free) dish that can be served as a main course or in smaller pieces to go with an aperitif or chilled rosé.
Sheet Pan Ratatouille
Serves 4 as a main and 6 to 8 as an appetizer
Ingredients
1 small Japanese eggplant (4 ounces), cut 1/2 inch thick on the diagonal 2 small or 1 medium zucchini
(10 ounces), cut into 1/2-inch-thick rounds
2 small or 1 large sweetred peppers (any kind), cut into strips
1 smallred onion, cut into
1/4-inch-thick rings
Half a 15.5-ounce can chickpeas, drained, rinsed, and blotted dry 1 garlic clove, thinly sliced
2 tablespoons olive oil, plus 2 teaspoons more for the tomatoes
1/2 teaspoon kosher salt
Freshly ground pepper
1/2 pint cherry tomatoes (any kind, or a mix), halved
2 thick socca
4 ounces soft goat cheese
Flaky sea salt
8 to 10 basil leaves, shredded Extra-virgin olive oil for drizzling (optional)
Instructions
Heat the oven to 425°F, with a rack in the middle. Toss the eggplant, zucchini, peppers, onion, chickpeas, and garlic with the 2 tablespoons olive oil, salt, and pepper on a large baking sheet. Make sure all the vegetables are well coated. Coat the cherry tomatoes with the remaining 2 teaspoons oil and set aside.
Roast the vegetables on the baking sheet for 25 minutes. Remove from the oven, stir and turn the vegetables, and scatter the tomatoes on the baking sheet. Cook for 10 to 15 minutes longer, until the vegetables have browned a little and the tomatoes are shriveled but still intact.
Warm the socca in the hot oven for 5 minutes in the skillet you cooked them in or on a small baking sheet and transfer to a serving plate. Crumble the goat cheese evenly over the socca and top with the warm vegetables. Sprinkle with flaky sea salt and basil. Add a drizzle of extra-virgin olive oil, if desired. Cut into wedges and serve warm.
Note: I like Japanese eggplant for this recipe, because they're devoid of seeds, hold their shape, and are small enough to be cut into rounds, but any small eggplant can be used; just cut into bite-size pieces. The same goes for zucchini. Baby zucchini (4 to 5 ounces each) work great and look nice cut into rounds, but if using larger zukes, quarter them lengthwise before cutting them 1/2 inch thick
Socca (chickpea pancakes)
Makes 2 thicker pancakes or 3 thinner ones
The main ingredient of this stupidly simple home version of the Provençal street snack socca is chickpea flour, which, happily, has become widely available due to the popularity of gluten-free baking. Torn into pieces, the savory pancakes can be served with chilled rosé or topped with the Roasted Ratatouille on page 63, cut into wedges, and eaten like pizza. Thicker pancakes will stand up better to toppings, especially if they're on the heavy side, while the thinner ones are best for eating on their own. Parmesan is not traditional, but it adds a certain je ne sais quoi that I prefer. Feel free to leave it out.
Ingredients
1 cup/101 g chickpea (garbanzo) flour 1 cup water
1/2 cup lightly packed (20 g) finely grated Parmesan 2 tablespoons olive oil, plus more for cooking \
3/4 teaspoon kosher salt
Freshly ground pepper
Instructions
Whisk together the chickpea flour, water, Parmesan, oil, salt, and pepper until smooth. Cover with plastic and let rest for at least 30 minutes at room temperature. The batter can rest for up to 1 day, refrigerated.
Heat the broiler, with a rack 8 inches away. Then heat a 9- or 10-inch cast-iron skillet in the oven for about 5 minutes. Add 1 tablespoon oil to the pan and pour in about a third of the batter (scant 1/2 cup) for a thinner pancake or half the batter (3/4 cup) for a thicker one, tilting the pan to cover the bottom evenly. Return to the oven and cook until the pancake is blistered and browned on top, about 6 minutes for thinner socca and 7 minutes for thicker ones.
Slide the pancake onto a plate, reheat the pan for a few minutes, and repeat with the remaining batter.
Notes: If you don't have a broiler, you can make these on the stovetop, provided you make thin pancakes. (It's too difficult to flip thicker ones.) Heat the skillet until moderately hot over medium heat. Add 1 tablespoon olive oil and pour in the batter, tilting the pan to cover the bottom. For thinner pancakes, cook for 3 minutes on the first side and 1 minute on the second side.

Susan Spungen
Recipe Developer
Susan Spungen is a cook, food stylist, recipe developer, and cookbook author. She was the founding food editor at Martha Stewart Living Omnimedia from its inception until 2003. She was the culinary consultant and food stylist on the feature films Julie & Julia, It's Complicated, and Eat, Pray, Love. She is the author of Veg Forward, Recipes: A Collection for the Modern Cook, What's a Hostess to Do?, and Strawberries (a Short Stack Edition) and co-author of the best-selling Martha Stewart's Hors d'Oeuvres Handbook. She lives in New York City and East Hampton, NY.