A Savory Green Smoothie For Beautiful Skin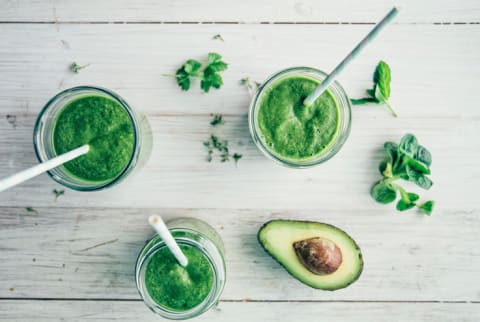 March 18, 2016
Treat your skin by drinking this detoxifying and digestion-enhancing smoothie, which is rich in both vitamin C and fiber.
Fennel Breeze Smoothie
1 fennel bulb
2 sprigs oregano
2 sprigs basil
2 handfuls kale
½ cucumber
1 tomato
½ avocado
A squeeze of lime
Blend the ingredients with ⅓ cup of water. Add more water if necessary to reach your desired consistency, then drink.
Adapted from Green Smoothies, by Fern Green, copyright 2015, published by Ten Speed Press, an imprint of Penguin Random House LLC.Photographs copyright 2013 by Deidre Rooney
Fern Green
Fern Green is a food stylist, writer and boutique hotel owner. She regularly writes and styles for magazines such as Jamie (Jamie Oliver), and works with various high-profile brands such as Waitrose on food styling for editorial and video content. She is also a recipe writer and tester and loves developing delicious new recipes to try out on her family and friends. Her most recent book is Natural Home Cleaning, published by Hardie Grant Books February 2019.