7 Quick Spiritual Rituals To Sneak Into Your Week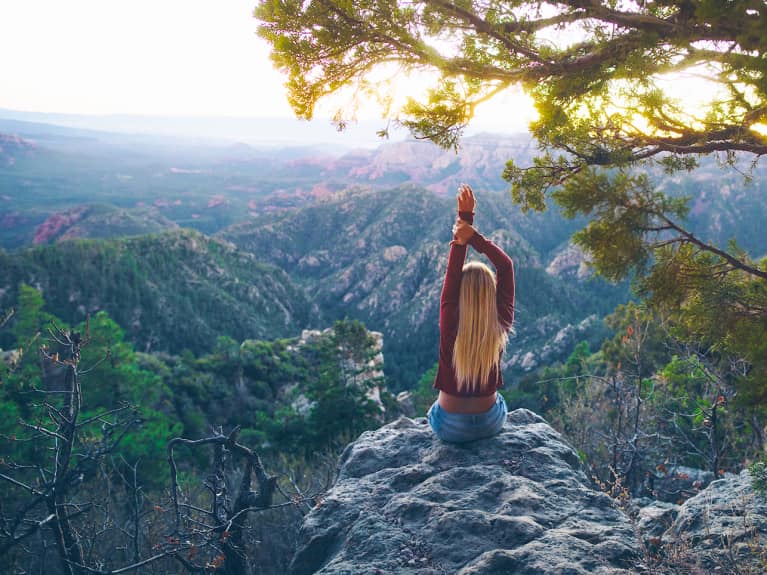 Whether you're just beginning on your spiritual path or reawakening your spirit from its slumber, the best thing to do is get some ongoing rituals going in your life. The trick is starting small to avoid overwhelm while cultivating a sense of devotion to your well-being.
Rituals are like threads, woven together to create a net of support for your body, mind, and spirit. When this "net" is steady, it will catch you on both the good and bad days. Some ritual threads are daily, while others may be weekly, monthly, seasonally, and even annually. If we look closely at our rituals, we'll notice that they are actually an accumulation of habits. Some are healthy, and some are not; some diminish us, and others empower us. Added up, they affect our lives on every level, including our spirituality.
Here are some simple rituals to help get you on a healthy road toward a deeply connected spirit:
1. Maintain a morning ritual.
I get that mornings can be difficult, but a morning ritual needn't be a daunting task on your list of to-do's. It can be as simple as a three-minute pause. Take a moment to vitalize your inner work by sitting still with your eyes closed. Follow the flow of your breath and connect with at least three things you're truly grateful for as you welcome your best self forward. Do this daily for a month, and you will feel its impact ripple into every area of your life.
2. Be aware of repetitive signs.
Are there certain numbers or symbols that you keep seeing? Do little reminders show up when you most need them? For me, when I see a feather on my path, I remember that I'm guided and going in the right direction. I also often see hummingbirds when I'm weighed down by heavy thoughts, reminding me to lighten up. The more I notice these signs, the more they show up to support me. Pay attention to these daily whispers, and signs will start to show up for you.
Journaling has incredible benefits, and it can be a fast track to mindfulness. Putting a pen to paper can help you discharge static thoughts or old resentments and create a space from which you can set clear intentions to achieve your goals. "Spirit writing" is similar to journaling, with the addition of an opening prayer and free-form, unedited writing. Begin by asking for support and direction. Then release what no longer serves you and let the words flow without judgment.
Get outside and feel the earth.
4. Work with a coach or teacher.
There is no shame in asking for help. I've continuously had teachers and coaches throughout the ups and downs of life. It is extremely beneficial to have someone who supports your spiritual well-being. A coach or a teacher can help you create a road map to a lifestyle you want to live.
5. Make the effort to connect with loved ones.
Remaining available to others allows you to step out of yourself and strengthen your spirit. If you've been absorbed by the busyness of your own life, reach out and reconnect to the world around you.
There is no stronger, more harmonious force than nature. Being in nature reminds us to breathe, slow down, and connect. It is imperfectly perfect, reminding us of our own precious nature. If you feel overwhelmed with worry or anxiety, this is a sure sign that you need to connect with your spirit. Get outside and feel the earth.
This is a quick way to reconnect with spirit throughout your day. It forces you to pause so that you can re-center and ground. I also love to honor the full and new moon every month to reset my system, brighten my spirit, and journal my intentions.
I hope you find these suggestions helpful on your spiritual journey!
Next up, check out these 2-minute rituals that promote major self-love.