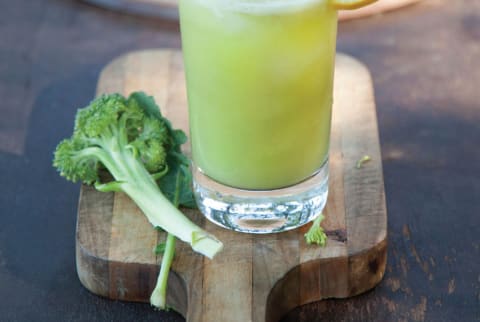 May 15, 2014
Apple has a lovely way of calming broccoli's often, er, "well-announced" flavor ... and a bit of ginger gives this juice a refreshing heat. If you're looking to hide the flavor of the broccoli entirely, simply juice an additional apple, or add a touch of stevia.
A Perfectly Refreshing Green Juice With A Ginger Kick
Makes approximately 16 ounces
2 large sweet apples, cored
3 cups chopped broccoli
2 celery stalks
1 inch fresh ginger root
1 lemon, juiced
sweetener, to taste (optional)
Juice the apples, broccoli, celery, and ginger root. Stir in the lemon juice. Add a touch of sweetener like stevia, as desired.
For an extra green boost, add 1/2 teaspoon spirulina powder (or more, to taste) and mix in a shaker cup or blender to incorporate.

Julie Morris
Julie Morris is a Los Angeles-based natural food chef, superfood expert, and bestselling author of 5 books including Superfood Soups, Superfood Snacks, Superfood Smoothies, Superfood Juices, and Superfood Kitchen. She has worked in the natural food industry for a decade as a recipe developer, culinary writer, on-camera personality, national speaker, and is an active advocate for whole, plant-based foods and superfoods for optimal health. Her mission is simple: to share recipes and nutrition tips that make a vibrantly healthy lifestyle both easy to achieve and delicious to follow.
For more of Julie's superfood kitchen, visit her at JulieMorris.net, or through her social media channels: Facebook, Twitter, and Instagram.