This No-Cook Protein-Packed Dinner Takes Less That 10 Minutes To Make (Seriously!)
Contributing Food Editor
By Liz Moody
Contributing Food Editor
Liz Moody is a food editor, recipe developer and green smoothie enthusiast. She received her creative writing and psychology degree from The University of California, Berkeley. Moody is the author of two cookbooks: Healthier Together and Glow Pops and the host of the Healthier Together podcast.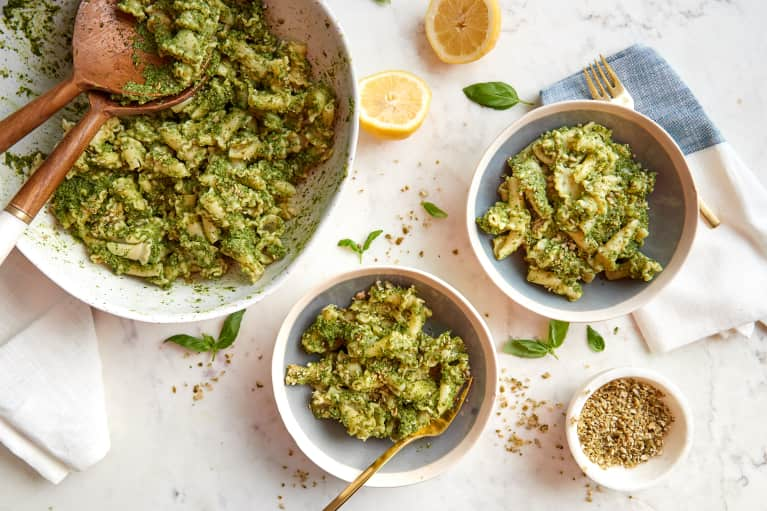 Look—it's hot out. We all work long hours. I know you want a healthy dinner, but I'm not going to ask you to work very hard for it, and I'm certainly not going to ask you to turn on your oven (let's just leave that thing in hibernation until the leaves start falling, okay?). This pesto pasta takes less than 10 minutes to make, and the only heat involved is the wee flame from your stove.
Despite being the ultimate lazy dinner, it's packed with health benefits. The protein-rich (12 grams a cup!) pumpkin-seed base is spiked with hulled hemp hearts, which add complete protein and a creaminess that will make you forget the lack of cheese. The raw garlic adds antiviral and antibacterial qualities (take that, summer cold) and a deliciously savory flavor, while a bit of honey brings out the natural sweetness of the spinach.
Best of all? It's equally good hot and cold, so if you make extra, you can grab it from the fridge and eat it cold. Think of it like internal air conditioning and dinner all in one. You're welcome.
Protein-Packed Pesto Pasta
4 cups dried pasta of choice
2 cups raw, shelled pumpkin seeds
⅓ cup hulled hemp hearts
Juice and zest of 2 lemons
¾ teaspoon salt + an additional ¼ teaspoon
4 packed cups spinach
1 cup olive oil
6 cloves raw garlic, peeled with ends chopped off
2 tablespoons raw honey
Add a generous amount of salt (a small palmful) to a large pot of water. Boil, and cook pasta according to package instructions until al dente.
Heat a small saucepan over low heat; add pumpkin seeds and hemp hearts and toast, tossing occasionally, until fragrant and just beginning to become golden brown, about 3 minutes. Let cool and put ½ cup of seed mixture in food processor. Pulse with lemon zest and ¼ teaspoon salt; remove from food processor and set aside.
Pulse together olive oil, greens, remaining seed mixture, lemon juice, garlic, honey, and ¾ teaspoon salt until a smooth sauce forms (a bit of texture is totally fine).
Toss pasta with pesto sauce until generously coated. Top with crushed nuts and zest mixture and serve immediately.