The Prebiotic Soup You Need To Keep Your Microbiome Healthy & Happy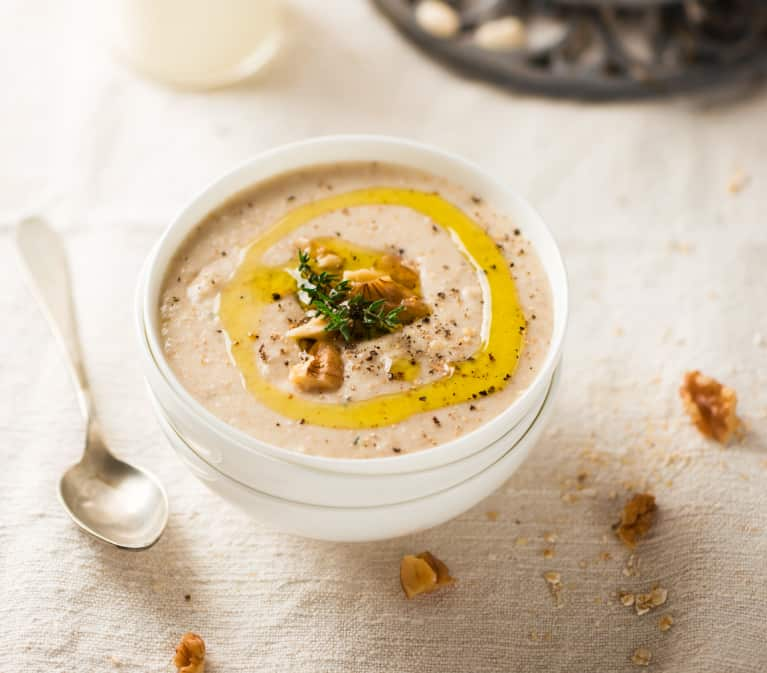 Our editors have independently chosen the products listed on this page. If you purchase something mentioned in this article, we may
earn a small commission
.
Prebiotics are just as important as probiotics when it comes to maintaining good gut health. They're essentially the food for the good bacteria in your gut—and if you don't feed your good bacteria, all of the supplements and fermented foods in the world won't help them thrive. This soup, excerpted from Dale Pinnock's Eat Your Way to a Healthy Gut: Tackle Digestive Complaints by Changing the Way You Eat, in 50 Recipes, is a prebiotic bomb, although it comes with a warning. "When you first try this soup you may think I have played an evil prank on you. Because initially it may feel like digestive warfare has unfolded and you will feel bloated and gassy afterward," explains Dale. "But what you are experiencing is a massive feeding of the good bacteria which will cause the bacterial colony to grow and strengthen. The long-term benefit of this is that bloating will ease and many aspects of digestion and digestive health will improve."
Prebiotic Jerusalem Artichoke Soup
1 large white onion, minced
2 garlic cloves, minced
1 tablespoon olive oil
Sea salt
1 lb., 2 oz. (500 g) Jerusalem artichokes, skin-on, chopped
Generous 2 cups (500 mL) vegetable broth, plus more if needed
Chili oil and red-pepper flakes, for serving (optional)
In a large saucepan, sauté the onion and garlic in the olive oil, with a pinch of sea salt, until the onion softens. Add the Jerusalem artichokes and enough broth to cover. You can always add more if the soup is a little thick, but watery soup is just like gruel!
Simmer gently for around 20 minutes, until the artichokes have softened. Blend into a thick, smooth soup, adding more broth if you would like it thinner. Serve with a drizzle of chili oil and a sprinkle of red-pepper flakes (if using).
Want to turn your passion for wellbeing into a fulfilling career? Become a Certified Health Coach! Learn more here.