Poached Eggs Over Broth Braised Kale

mbg Food Contributor
By Christina Liva
mbg Food Contributor
Christina Liva is a writer, recipe developer, and former mbg food editor. She founded Yay Lunch and is currently based in Virginia.
Poached Eggs Over Broth Braised Kale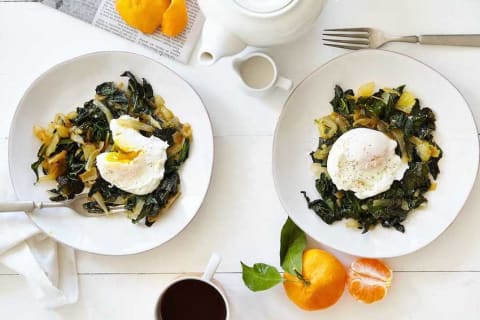 4 organic eggs
1 onion, sliced
1 clove of garlic, minced
1 head of dinosaur kale, chopped
1/2 cup bone broth (beef or chicken) or vegetable broth
1/2 a lemon (for juice and rind)
pinch of red chili flakes
olive oil
salt + pepper
paprika for garnish (optional)
1. For the kale: Lightly coat the bottom of a large sauté pan with olive oil. Add the onions over medium-low heat and let cook for about 20 minutes, until soft and slightly brown. Add kale and broth. Mix, season with salt and pepper and cook for another 20 minutes or so, stirring occasionally, until kale is soft, and dark on the edges. Drizzle with lemon juice and grate zest over top.
2. For the eggs: Add a couple cups of water (enough for 3-4 inches from the bottom) in a medium saucepan. Bring to a steady simmer and add a couple pinches of salt. Crack eggs individually into a ramekin or cup. Move a wooden spoon in a circle motion around the saucepan to create whirlpool in the middle. Slowly pour each egg into the water and let simmer on low for 2-3 minted. Transfer to a paper-towel-lined plate.
3. Divide the kale between two plates and top with the eggs. Season with salt and pepper and a dash of paprika if desired.
Recipes + Styling by Christina Liva

Christina Liva
mbg Food Contributor
Christina Liva is a writer, recipe developer, and former food editor at mindbodygreen. She received her bachelor's degree in english from Georgetown University, and has also written for Goop and Zagat. Liva is the founder of Yay Lunch, a company based in Virginia that helps provide healthy lunches to kids.