Because citrus season is like a ray of sunshine on a cold, dreary day, I'm bringing you these orange overnight oats to perk up any morning. Prepare these the night before and serve them cold, room temperature or warmed back up in the morning garnished with some nuts and some toasted coconut.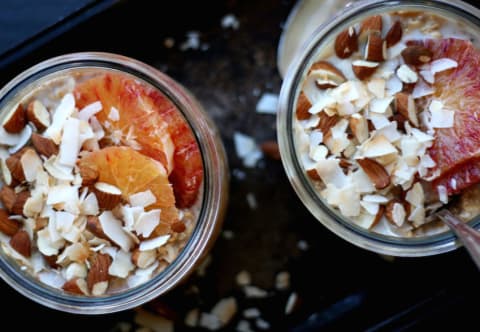 1 ½ cups fresh squeezed orange juice (About 4 oranges)
1 ripe banana
2 dates, pitted
¼ teaspoon vanilla extract
1 ½ cup rolled oats
2 tablespoons chia seeds
¼ cup unsweetened almond milk (to pour over oats in the morning)
toasted unsweetened coconut flakes & almonds (to garnish)
1. Place rolled oats and chia seeds in a bowl or jar and set aside.
2. Combine fresh squeezed orange juice, banana, dates and vanilla extract in a blender and blend until smooth.
3. Pour orange juice mixture over oats and stir until thoroughly combined. Cover and place in the refrigerator overnight. Enjoy in the morning cold or at room temperature. Garnish with orange segments, toasted almonds, coconut and a splash of almond milk.
Photo courtesy of the author

Kate Gavlick
Kate is the blogger, photographer, and healthy foodie behind Vegukate. She started Vegukate with a simple philosophy on food: eat what's real and toss what's not. That means eating real whole foods; not "food" made with refined sugars, artificial chemicals, weird additives, and ingredients a 5-year-old can't pronounce. You can find Kate on Instagram, Pinterest, and Twitter.