Want To Delay Menopause? Study Says You Should Have More Sex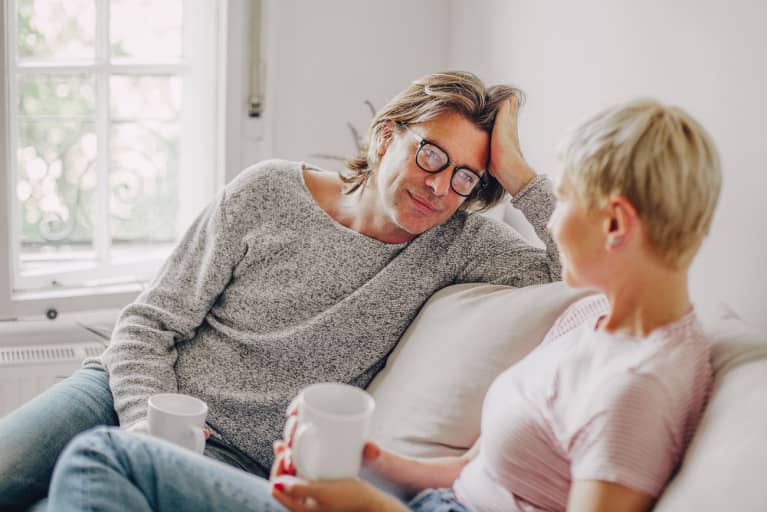 January 15, 2020 — 0:16 AM
Menopause symptoms can be a pain. Disrupted sleep, low sex drive, and hot flashes are just a few of the side effects women may experience during the hormonal changes. Thankfully, a study published in Royal Society Open Science found a new (and, let's be honest, fun) way to delay menopause in middle-aged women.
A study conducted by University College London found middle-aged women who engage in sex weekly or monthly will delay menopause, compared to women who have sex less frequently.
Using data from a U.S. study, researchers analyzed more than 2,000 women before and during menopausal transitions. Over the course of 10 years, participants responded to survey questions regarding their sexual activity.
Questions included whether they had engaged in sex with their partner in the past six months, how frequently, and what kind of sexual activity (intercourse, oral sex, touching or caressing). They were also asked if they had engaged in self-stimulation in the past six months.
So what was the link between sex and menopause?
The majority of women (64%) were having sex weekly, and those women were 28% less likely to experience menopause at any age than those who had sex less than monthly. This included all types of sex, not just intercourse. The study also found women who have sex monthly were 19% less likely to go through menopause than women who had even less sex.
While menopause is inevitable for all women, these findings suggest certain behaviors might be able to delay the process. "These results are an initial indication that menopause timing may be adaptive in response to the likelihood of becoming pregnant," said one author, Ruth Mace, DPhil.
Studies have shown women's immune systems are weaker during ovulation. If pregnancy is not likely, the body might naturally shut down ovulation to protect middle-aged and older women from infection or disease.
Lead researcher Ph.D. candidate Megan Arnot said the findings suggest "if a woman is not having sex...then the body 'chooses' not to invest in ovulation." Instead, the body might invest energy into other resources, "such as keeping active by looking after grandchildren," (known as the Grandmother Hypothesis).
If you're not quite ready to go through menopause, try adding more sex and maybe a bit of mindfulness to your weekly routine.