The New Classic Vegetarian Cookbook Just Came Out. Here Are The 3 Best Recipes

Contributing Food Editor
By Liz Moody
Contributing Food Editor
Liz Moody is a food editor, recipe developer and green smoothie enthusiast. She received her creative writing and psychology degree from The University of California, Berkeley. Moody is the author of two cookbooks: Healthier Together and Glow Pops and the host of the Healthier Together podcast.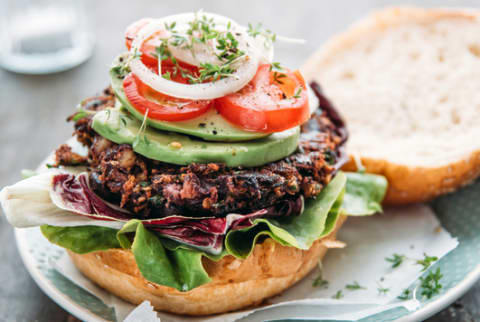 October 15, 2017
The first Moosewood cookbook was released 40 years ago, in 1977. It went from being self-published to being named by the New York Times as one of the top 10 best-selling cookbooks of all time, and it's likely the most popular vegetarian cookbook in the world. Now, Moosewood is back with a collection of 250 brand-new vegetarian recipes, The Moosewood Restaurant Table: 250 Brand-New Recipes From the Natural Foods Restaurant That Revolutionized Eating in America. The dishes are fresh, flavorful, and vegetable-heavy, relying on grocery store staples in equal parts to more out-there farmers market picks (kohlrabi, Romanesco). We scoured what's sure to be a modern classic for the best of the best—make these once, and watch them become your new staples.
Cauliflower Quinoa Bites
Nutrient-rich, high-protein quinoa is usually consigned to the realm of pilafs and cereals—so much potential, so few recipes! Challenged, our experimentation led us to these small, golden, gluten-free croquettes that are easy to prepare, bake, and serve. They are firm and mildly flavored, designed to be perfect little conveyances for flavorful sauces or dollops—the ideal starter or passed appetizer.
The flavor and texture will change with your choice of cheese. For instance, hallumi, a popular Middle Eastern cheese, is a semisoft brined cheese with a high melting point. Unlike cheddar or Parmesan, when hallumi is baked, grilled, or otherwise heated, it becomes softer but doesn't melt.
¾ cup quinoa (5 ounces)
1½ cups water
2 large eggs
½ teaspoon salt
¼ teaspoon freshly ground black pepper
2 cups grated cauliflower 1½ cups grated hallumi, Parmesan, or sharp cheddar cheese (about 6 ounces)
3 scallions, halved lengthwise and thinly sliced
⅓ cup chickpea flour
½ teaspoon baking soda
2 tablespoons fresh lemon juice
Rinse the quinoa in a fine-meshed sieve under lukewarm running water for about 2 minutes to remove any bitter residue. In a saucepan, bring the rinsed quinoa and the water to a boil. Cover, reduce to a simmer, and cook for 15 minutes. Fluff with a fork and set aside, uncovered, to cool.
While the quinoa cooks and cools, in a bowl, beat the eggs with the salt and pepper until fluffy. Add the grated cauliflower and cheese and the scallions to the bowl, and stir well. When the quinoa has cooled to just warm, stir it in. Sprinkle with the chickpea flour and stir well to distribute. In a cup or small bowl, stir the baking soda into the lemon juice and immediately add to the mixing bowl and stir well.
Preheat the oven to 375ºF. Line a baking sheet with parchment paper. If you don't have parchment, oil the pan generously with olive oil.
Using a 1-ounce scoop (or otherwise), form balls with 2 tablespoons of the mixture and arrange on the baking sheet. Bake for about 30 minutes, or until firm and golden.
Cashew-Crusted Chickpea Burgers
This burger is creamy-soft inside with a crunchy toasted cashew crust. Fragrant garam masala, a roasted spice mix with Indian origins, gives it personality.
1½ tablespoons vegetable oil, plus more as needed
1½ cups finely chopped onions
1 tablespoon peeled and grated fresh ginger
2 garlic cloves, minced or pressed
2 teaspoons garam masala, less if yours is "hot" (see recipe below)
1½ cups grated sweet potatoes, from about 1 small sweet potato
½ teaspoon salt
Tabasco or other hot sauce (optional)
½ cup toasted cashews
1 (15-ounce) can chickpeas, rinsed and drained
1½ teaspoons apple cider vinegar
2 tablespoons tahini
Warm the oil in a large skillet, add the onions, and sauté for a couple of minutes. Reduce the heat to medium-low and add the ginger, garlic, and garam masala. Stir often for a minute or two to prevent the mixture from sticking to the pan, then add the grated sweet potatoes and salt. Cover and cook, stirring often, until the sweet potatoes are tender, about 8 minutes. Add a little water if necessary to prevent sticking.
Preheat the oven to 375°F. Lightly oil a baking sheet.
In a food processor, whirl the cashews until coarsely ground. Transfer to a plate and set aside. To the same bowl of the processor (no need to clean), add the chickpeas, vinegar, and tahini, and process until fairly smooth. Stir this mixture into the cooked sweet potatoes. Season with salt to taste and a splash or two of hot sauce if you like.
Form the mixture into 4 burgers. Gently press both sides of each burger into the ground cashews to coat, and place on the prepared baking sheet. Bake for 20 minutes until firm.
Garam Masala
1 (3-inch) cinnamon stick
2 tablespoons coriander seeds
1 tablespoon cumin seeds
2 teaspoons black peppercorns
1 teaspoon cardamom seeds
1 teaspoon whole cloves
1 teaspoon fennel seeds
1 tablespoon ground turmeric
Crush the cinnamon stick with a rolling pin into small pieces. Scatter all the spices, except the turmeric, on a pie plate or small baking pan. Roast at 200°F for 30 minutes. Shake or stir the spices once or twice during roasting.
Remove from the oven, let cool briefly, and pulverize in a spice grinder until smooth. Stir in the turmeric.
Kale and Walnut Risotto
Kale and Walnut Risotto is nutritious, satisfying, and quite attractive. Pale green and fresh-tasting, it has quickly become one of our favorites.
If you're new to making risotto, we recommend that you make the pesto before you start sautéing the onions, so you can be relaxed during the stock-adding and stirring process. We think this risotto is best served right away; if you have leftovers, think about making Risotto Cakes.
½ cup walnuts
1 quart vegetarian no-chicken stock or vegetable stock
2 garlic cloves
4 cups packed baby kale (8 ounces)
1 cup chopped fresh parsley
½ teaspoon salt
2 tablespoons olive oil
¼ cup water
2 tablespoons extra-virgin olive oil
1½ cups finely chopped onions
1½ cups Arborio rice
½ cup dry white wine
1 cup finely grated Pecorino Romano or Parmesan cheese
Toast the walnuts until fragrant and turning darker; set aside to cool. Bring the stock to a simmer in a covered saucepan.
Make the pesto: In a food processor, pulse half of the toasted walnuts with the garlic until ground. Add 2 cups of the kale (put the remaining cup of kale aside). Add the parsley, salt, olive oil, and the water. Process until a paste forms. With a knife, coarsely chop the other half of the walnuts and set aside.
In a large, heavy-bottomed saucepan (nonstick works well for risotto) on medium heat, warm the extra-virgin olive oil. Add the onions and sauté until softened, about 4 minutes. Add the rice and stir, using a wooden spoon to avoid breaking the rice kernels, for a minute to thoroughly coat the rice with oil. Add the wine and cook, stirring constantly, until it has been absorbed.
Add simmering stock, about a cup (a ladleful or two) at a time, stirring after each addition. The liquid should come to a simmer, but don't let it come to a rolling boil. Continue adding stock as the rice absorbs it, every few minutes, stirring frequently.
When you add the last ladleful of stock to the rice, stir in the pesto, the remaining kale, and about half the cheese. Stir and cook for a couple of minutes more until the kale has wilted and the cheese has melted.
Serve hot, topped with the rest of the cheese and the chopped walnuts.