Don't Sleep On This Gut-Healing Ingredient That Takes Oatmeal From Blah To Gourmet

Contributing Food Editor
By Liz Moody
Contributing Food Editor
Liz Moody is a food editor, recipe developer and green smoothie enthusiast. She received her creative writing and psychology degree from The University of California, Berkeley. Moody is the author of two cookbooks: Healthier Together and Glow Pops and the host of the Healthier Together podcast.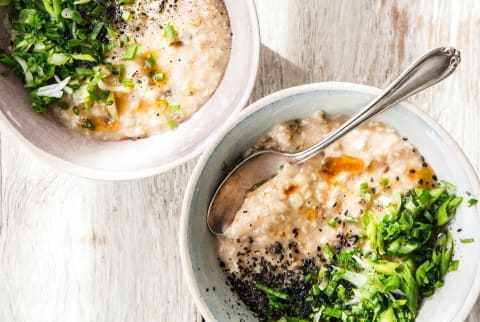 July 24, 2018
If you're a fan of savory breakfasts, miso will be your new best friend. Chefs rely on the fermented soybean paste to add a note of funky umami depth to dishes. And because it's fermented, it's also a great way to pack in probiotics during the first meal of the day.
"I often rely on oatmeal for a quick breakfast, and adding miso and scallions is a simple way to switch up my routine when I am in the mood for savory, umami flavors in the morning," explains Jodi Moreno, who developed this oatmeal recipe for her new cookbook, More With Less, which is dedicated to simplifying the practice of eating well. "You could also add other toppings, such as walnuts, chopped spinach, or even a poached egg."
Miso Oats with Scallions & Sesame Oil
1 tablespoon ghee or neutral oil
1 cup quick-cooking rolled oats
1 teaspoon red miso
3 cups + 1 tablespoon water
2 scallions, white and light green parts only, minced
Drizzle of toasted sesame oil
2 pinches of sesame seeds
Handful of microgreens or sprouts (optional)
Heat the ghee in a medium saucepan over medium-low heat.
Add the oats and toast for about 2 minutes, until lightly browned.
In a small bowl, dilute the miso with 1 tablespoon of the water.
Stir the miso in with the oats, then add the 3 cups water (be careful, it may splatter) and stir.
Bring to a simmer, reduce the heat to low, and cook for about 5 minutes, stirring occasionally, until it has reduced to a desired porridge/oatmeal consistency. Remove from the heat and divide between 2 bowls. Add the scallions, sesame oil, sesame seeds, and microgreens or sprouts, if using, or any other topping you like.
Based on excerpts from More With Less by Jodi Moreno, with the permission of Roost Books, an imprint of Shambhala Publications, Inc. Copyright © 2018.
And do you want to turn your passion for wellbeing into a fulfilling career? Become a Certified Health Coach! Learn more here.