Former mbg Deputy Editor
By Elizabeth Inglese
Former mbg Deputy Editor
Elizabeth Inglese is a writer living in San Fransisco, California. She earned her bachelor's in english literature and cultures from Brown University and her master's in writing from The University of Southern California. She's the former Deputy Editor of mbg, and has also worked for Vogue, Architectural Digest, Bon Appetit, and Good Magazine covering food, health, and culture.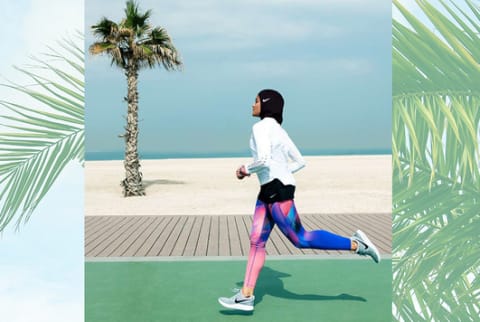 Photo by Nike and mbg creative
March 17, 2017
Nike's Pro Hijab won't hit the market until spring 2018 but it's already making headlines. Built from a breathable, lightweight mesh, the headwear has garnered Nike applause from those who hope the Pro Hijab will welcome more Muslim women into sports. The new product is not without its detractors—when religion and women's bodies intersect, emotions run high and opinions get loud—but our focus is elsewhere, on the massively inspiring women beneath the scarf. They've pushed their bodies, challenged assumptions, and broken boundaries in pursuit of bigger-than-life dreams, and we want to get to know them better.
Advertisement
This ad is displayed using third party content and we do not control its accessibility features.
Meet Zahra Lari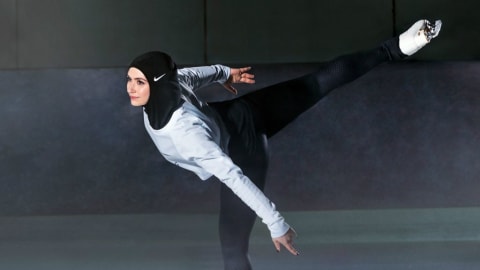 As a little girl growing up in Abu Dhabi, Zahra Lari dreamed of ice. "We're from a desert country, so no one understood that it was a real sport," the 21-year-old told Nike. She'd seen skating in a Disney film and couldn't shake her longing to glide across a rink. When she asked her mother for lessons, she said no, that it was too dangerous or could hurt her grades. School was a high priority in her household. But her father said yes, and took her to her first rink. Three years later she had mastered daring jumps and spins. Now a reality, her dreams took a new shape in the form of Olympic gold. "I want to be the first to represent the United Arab Emirates in the winter games."
With Pyeongchang in sight, Lari has ramped up her training schedule and tuned out the voices of those who still don't appreciate the effort she's undertaking. "People had this misconception that it was dancing. I mean, when we land a triple jump, eight times our body weight is on one leg that is balanced on a 4-milimeter metal blade!" On top of four hours a day, seven days a week training sessions, Lari is still working to prove to her mom that skating won't hold her back in school. She's pursuing an undergraduate degree in environmental health and safety at Abu Dhabi University.
"It's a good thing that I never care about what other people think, or I would have stopped this a long time ago," says Lari. "I want people to say that I'm not just a role model for people from my country but a pioneer for Muslim girls all over the world. People may think or tell you that you can't do certain things, but I'm going to show them you absolutely can. I am from a desert country and I'm doing a winter sport. It's fine to do what you love. My family is behind me, my country is behind me—and there's no reason why I can't achieve what I want to achieve."
Advertisement
This ad is displayed using third party content and we do not control its accessibility features.
Meet Amna Al Haddad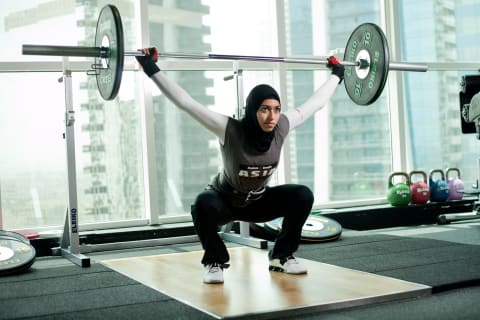 Growing up in the United Arab Emirates, Amna Al Haddad wouldn't have predicted she'd become an Olympian. She could barely imagine becoming an athlete. "I did not grow up with the concept of sports in my life," she said in a radio interview. "Being a weightlifter was a very unusual route for people in our country or in our region." Her early years weren't easy, marked with depression and unhealthful eating habits, but in her late teens, Al Haddad found a path out. "I just picked up sports, going to the gym, exercising. That took me to CrossFit, from CrossFit to weightlifting, to competing for the UAE national team for the Olympics."
Though Al Haddad wasn't welcomed open-armed into the weightlifting community—especially in the UAE, weightlifting is considered a man's sport—the encouragement she received from a cadre of supporters helped her to reach for her goals. "The path that I took, it was bigger than myself as an athlete, but it was one that was going to change the world," she says. Weightlifting was a tool Al Haddad used to lift herself out of darkness, and she knows it can do the same for many others if they're given the opportunity. "I think it's all a misconception or lack of awareness, and lack of education about what sports actually does for a person, and how it can actually have them develop their sense of confidence, self-esteem, and physical health."
The winner of six world-class gold medals and a pioneer for women in her region, Al Haddad offered Nike a unique perspective on needs of a hijabi. She worked with the company to select a high-performing material. "Being covered and competing was like some sort of dream." She's thrilled that sports companies are recognizing the presence of Muslim women athletes. "I'm glad to see that there's a lot of big brands who are taking a step toward creating a product to cater to athletes in different segments." Once gear is more readily available, she hopes it will open doors for more women to join her. "You could still be someone who holds onto your faith and still pursue your passions."
Advertisement
This ad is displayed using third party content and we do not control its accessibility features.
Meet Manal Rostom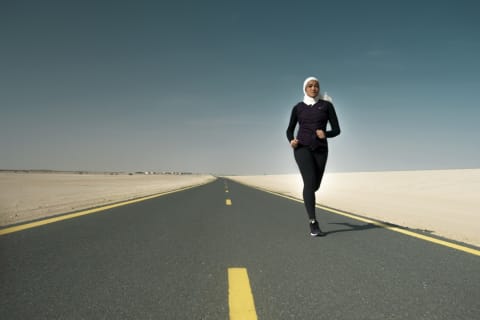 Madonna wasn't a typical role model for shy 8-year-old Egyptians, but she was everything to Manal Rostom. "I would look up to her in terms of how brave and inspirational she was in terms of putting her message across regardless of the judgments, her upbringing, or how poor she was. As a young girl I just wanted to become a strong girl." Rostom told Egyptian Streets. Now at 37, she's a runner, a mountain climber, and an advocate for hijabi.
Her parents didn't support her athletic ambitions, but Rostom knew she could forge a path on her own. "This is where your power as a strong woman comes in." She started running at 13 and didn't stop even when she was made fun of while running along Egypt's coast in the summers. "If I was a boy, of course things would have been majorly different," she says. "There is a change coming, there are so many game changers, which people look up to and say this is our time. We are going to become strong and persistent in what we want to achieve in life."
Rostom is a big part of that change. "For me that's not just breaking barriers but stereotypes and all misconceptions of women in hijab and what they are capable of. It is an honor to me to have made history in that sense. I just want to be the icon that people can refer to for a moderate, tolerant, cool hijabi. I would have loved to meet me 20 years ago when I was trying to make sense out of all of this, battling ideologies whether Islamic or cultural."
Already uncommonly accomplished in her 30s, Rostom is setting new goals for herself. "I would love to inspire girls who are between the ages of 10 and 25. These are the ages that are hectic and crucial because that's when personality is built and when dreams are formed. I would like to focus on my mountaineering career, summit Everest, and do the seven summits. I would also love to get married and have five kids!"
Advertisement
This ad is displayed using third party content and we do not control its accessibility features.