By Allison Daniels
mbg Contributor
Allison Daniels is a freelance writer currently living in New York. She received her bachelor's degree from Belmont University in creative writing and spanish.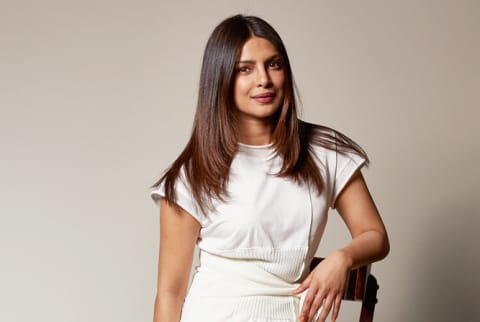 May 4, 2017
1. Priyanka Chopra slams sexism in the film industry.
Priyanka Chopra is taking a stand against sexism in the film industry. In an interview with Modern Luxury, the 34-year-old actress revealed she was once replaced from a film because her schedule didn't match up with the leading actor's. "[Once], a producer told my manager that if I couldn't adjust dates according to the male actors, then I would be replaced because women are replaceable in films when there's a big male actor." We can't wait to see how she fuels her beliefs for the greater good. (Daily Mail)
2. Your period is telling you a lot more than you realize.
Your period symptoms may be an indicator of how painful it will be when you give birth, according to GPs. "The initial stages of labour are very similar to periods," explains Dr. Dasha Fielder, who specializes in women's health. She explains that both are caused by contractions in the cervix. (Daily Mail)
3. Excess weight can fuel cancer cells.
We've known for a while that extra weight can increase the likelihood of developing cancer, and this is why: Obesity puts the body in a chronic inflammatory state, which spurs the growth of cancer cells. The high-sugar, high-fat diets that lead to obesity can worsen the situation. (Time)
4. Is Kalsarikännit the new hygge?
It is decidedly more solo than hygge and translates to staying home alone and having a drink in your underwear with no intention of going out. If a bathtub and a face mask are in the picture, that's something us hygge lovers can get down with. (Elle Australia)
5. Avocado prices are at a record high.
It might be time to dip into that savings account, avocado lovers. Due to a diminished avocado crop in Mexico and California, avocado prices are at a record high. As of March 19, the average price of avocados had risen to $1.25, up from 89 cents in January. (Washington Post)
6. The future of health care might soon become clear.
In light of concerns that the latest version of the American Health Care Act would not adequately protect people with pre-existing medical conditions, House Republican leaders are considering amending the bill to ask for $8 billion in extra spending, which would be earmarked for state governments struggling with hard-to-insure populations. (NYT)