Contributing Wellness & Beauty Editor
By Lindsay Kellner
Contributing Wellness & Beauty Editor
Lindsay is a freelance writer and certified yoga instructor based in Brooklyn, NY. She holds a journalism and psychology degree from New York University. Kellner is the co-author of "The Spirit Almanac: A Modern Guide to Ancient Self Care," with mbg Sustainability Editor Emma Loewe.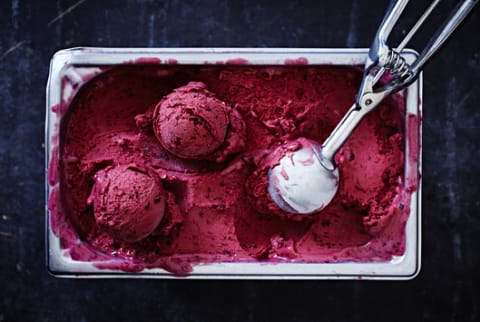 May 30, 2017
1. Is colostrum ice cream the latest super dessert?
Chef Dan Barber at Blue Hill has been churning a new kind of ice cream: cow's milk colostrum. Colostrum is the nutrient-dense, fatty liquid mammals produce after giving birth with the specific purpose of nourishing quickly growing newborns. While some foodies are enthusiastic about the taste, others—particularly mamas—have a hard time digesting something Mother Nature designed for a brand-new baby. Can't say we blame them. (Eater)
2. Research links Facebook use to reduced gray matter in the brain.
Using MRI scans, scientists found that the nucleus accumbens, the reward system of our brains, was smallest in individuals who checked Facebook from their mobile phones the most. Further studies are needed to determine cause and effect, but that's enough to make us want to try a social media detox. (PsyPost)
3. Losing sleep is one unfortunate side effect of climate change.
A new study by Dr. Nick Obradovich, a scientist who researches climate change and its effects on humanity, showed that by 2050, Americans will experience six more sleepless nights each year due to extreme heat. This change is predictably bound to affect the poor and elderly most. (NYT)
4. We need to talk about the relationship between personality and mental illness.
While it might be comforting that certain personality types are more likely to suffer from mental illnesses, recent research found that it's a bit more random than that. That being said, low and high levels of social maturity and emotional stability may affect your chances, and people who suffered from childhood trauma may be more likely to deal with mental illness later in life. (Science Of Us)
5. There's a good chance added sugars are lurking in your wine.
When you think of sugar-filled foods and beverages, red wine probably isn't the first thing that pops into your head. Bottles don't contain nutrition labels, making it easy to push the sugar content straight out of your mind—but the truth is, some wineries add sugar to their wine for a smoother taste. To find out just how much sugar is in your red wine, contact the producer directly. (NYT)
6. Probiotics may play a role in alleviating depression symptoms.
New research from McMaster University showed that adults who took a specific probiotic supplement exhibited significant improvements in IBS symptoms and symptoms of depression. The study was published in the journal Gastroenterology and can be added to the growing body of evidence that our microbiomes rule our health and happiness. (Science Daily)
7. Small dairy cooperative Arla defends itself against EliLilly.
Earlier this spring, Arla launched its "Live Unprocessed" campaign to raise awareness about how they are trying to simplify dairy for its consumers. One such measure is by using dairy from cows not treated with rBST, a growth hormone often used by larger dairy corporations. The maker and supplier of rBST is bringing a lawsuit against Arla, demanding they stop the campaign. "We believe the allegations in the suit are completely baseless and without merit and we look forward to defending ourselves in this case," says Don Stohrer Jr., the CEO of Arla.
8. Trader Joe's introduces mini avocados.
Slightly larger than a lime, these tiny avos are meant to be just the right size for one person. We hope they'll reduce wasted food, too! (Grub Street)
9. We don't know ourselves as well as we think.
About 95 percent of us think we're self-aware, but in reality, less than 15 percent of us are actually aware of our inner workings and how we come across to others. So what can we do about it? Meditation and journaling are great places to start cultivating more self-awareness. (The Guardian)
10. High-tech sensors may cut down food waste.
One Silicon Valley company, Zest Fresh, has developed a product that monitors food from the field to the grocery store. Monitoring temperature, moisture, and location on produce as it's harvested on farms, the sensors inform grocers about the real-time changes in a product's freshness. An approximate $30 billion in wasted food is lost each year; here's hoping this makes a dent. (Fast Company)