Contributing Food Editor
By Liz Moody
Contributing Food Editor
Liz Moody is a food editor, recipe developer and green smoothie enthusiast. She received her creative writing and psychology degree from The University of California, Berkeley. Moody is the author of two cookbooks: Healthier Together and Glow Pops and the host of the Healthier Together podcast.
This all-in-one breakfast is chock full of fiber, good fats and antioxidants.
Cold-brew coffee provides the energy boost and delicious mocha flavor, without the stomach-irritating acidity of regular coffee. Raw cacao provides additional energy, as well as a hefty serving of magnesium — one of nature's best anti-stress minerals.
Raspberries are one of the most fibrous fruits around, and will help keep your cells hydrated.
This recipe is vegan, gluten-free (make sure to buy gluten-free oats, as they're often processed in the same facility as wheat) and dairy free. It's all made the night before, so you can just grab it in the morning and get on to more pressing matters.
Mocha Raspberry Overnight Oats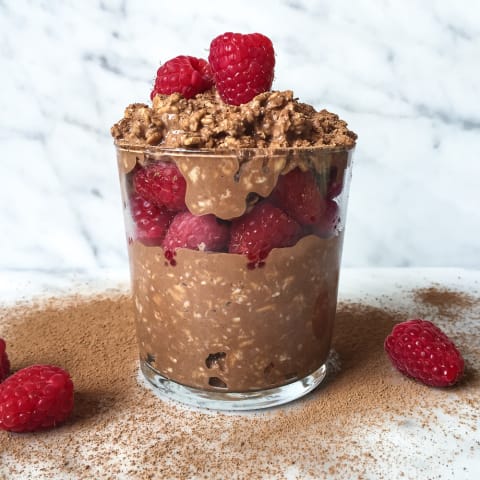 1 cup oats
½ cup milk of choice (I like almond or cashew)
½ cup cold-brew coffee (you can make your own or buy it in concentrate form at most grocery stores. If you buy the concentrate, be sure to dilute)
2 tablespoon raw cacao powder
1 teaspoon vanilla extract
Pinch of salt
1 tablespoon sweetener of choice (maple syrup, rice malt syrup and honey all work well)
½ cup of fresh raspberries
Mix together all ingredients except for raspberries in a mason jar. Put in fridge and let set 12 hours, or overnight. In the morning, layer in raspberries parfait style and enjoy!
Photo courtesy of the author