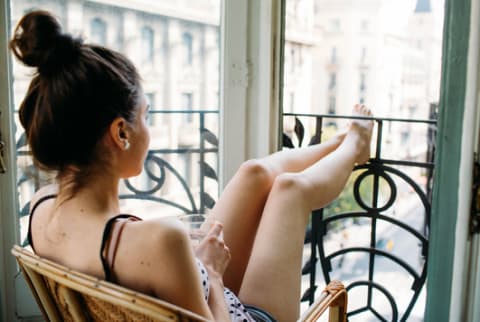 April 1, 2016
Snatam Kaur is a teacher and musician in the Kundalini yoga tradition, known for her bestselling kirtan albums (you've definitely heard her popular recording, "Longtime Sun"). As a practicing Kundalini yogi, she follows a structured series of morning practices, which include donning all white and chanting while wearing a head covering. While you might not be ready to introduce sartorial elements into your meditation practice, here, she shares the Kundalini morning rituals that can help you face each day with peace and joy.
One name for any spiritual practice done with dedication is Sādhanā. I have practiced Sādhanā in one shape or form for most of my life. Now, at 42 years old, am I an enlightened being? Well, hardly. However, I remember my spiritual teacher, Yogi Bhajan (who brought Kundalini yoga to the West in 1968 and was both my parents' and my teacher) saying, "If you want to be enlightened, be a light!" And while I can't read auras, or read your mind, or know what will happen to me tomorrow, or even why it happened to me yesterday, I do have a light to tap into, every day. This light brings me tremendous joy and peace, and is without a doubt my saving grace. It gives me a way to shift my inner paradigm toward my dharma: to live in service to all through my life, my work, and my being.
Advertisement
This ad is displayed using third party content and we do not control its accessibility features.
In 1992, Yogi Bhajan offered the Aquarian Sādhanā to help us thrive and remain balanced in a world with ever-increasing information, technology, and sources of stress and pressure. The Sādhanā includes a wake-up routine, a recitation, yoga, chanting, prayer, and finally a conscious act of surrendering to the Divine. Drawing from that, the following tips are some simple yet totally effective morning yogic techniques to help you enjoy living in your body temple.
1. Clear out mucus.
Yogīs everywhere brush their teeth before meditating because it cleans out bacteria from the mouth. Additionally, after you finish brushing your teeth, use your toothbrush to clean your tongue all the way back to your throat. This will make you gag a little bit, which helps clear mucus from your respiratory system.
2. Kick-start your digestion.
After you have brushed your teeth, drink a large glass of warm water. If your digestion is good and you are getting enough sleep, at this point you can have a bowel movement. As yogīs, we try to have a bowel movement at the beginning of each day, to let out what was put in yesterday before we consume more food today. Plus, having an empty gut for meditation is a blissful experience.
Advertisement
This ad is displayed using third party content and we do not control its accessibility features.
3. Mindfully take care of your hair.
Kundalini means "Lock of the Beloved." Needless to say, hair is sacred in the Kundalini yoga tradition. From an early age, my mother taught me to attend to my hair with great attention, and I love the feeling of combing my hair in the morning with love and care. In this tradition, we wash our hair every 72 hours, and I find that following this guideline increases my mental clarity. The recommendation is to wash your hair and let the sun dry it naturally. Try to use a natural fiber comb, preferably made of wood, or a brush with natural bristles, and comb it in the morning to support the Kundalini rising. The yogīs see hair as a natural conduit of solar energy: Combing it and placing it in a spiral shape at the top of the head brings all of this subtle light energy to work. At night, we comb the hair down to promote relaxation.
4. Take a cold shower.
Cold showers offer a lot of benefits: As the cold water hits our skin, blood rushes up to open the capillaries. Then the blood moves to our internal organs as a means of protection, and this process releases excess heat from the body. When blood moves this way, it becomes oxygenated and flushes the entire body, which benefits our skin, organs, and lymphatic and endocrine systems. The cold water, especially when accompanied with massage, really aids your skin and complexion. The whole experience totally recharges the nervous system; it also increases the parasympathetic reflex: our capacity to handle stress successfully. In my experience, taking cold showers brings a steadiness to my energy, and they help me remain uplifted and peaceful throughout the whole day.
Related reads:
Advertisement
This ad is displayed using third party content and we do not control its accessibility features.

Snatam Kaur
Snatam Kaur is a teacher and musician in the Kundalini Yoga tradition, known for her many bestselling kirtan albums. Based in Wilton, New Hampshire, she leads workshops and gatherings across the US.