By Allison Daniels
mbg Contributor
Allison Daniels is a freelance writer currently living in New York. She received her bachelor's degree from Belmont University in creative writing and spanish.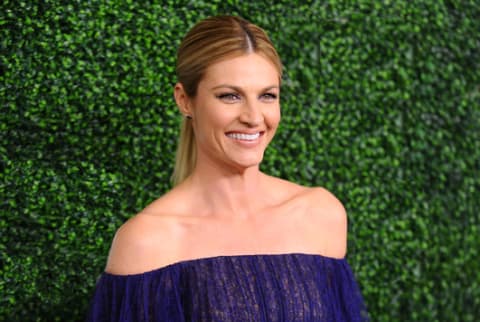 Photo by Jason LaVeris / Getty
June 15, 2017
1. Erin Andrews froze her eggs before her cancer diagnosis and is now using them for IVF.
In what may have been a prescient move, the 39-year-old television personality froze her eggs before being diagnosed with cervical cancer. Now cancer-free, Andrews and her fiancé are undergoing IVF in hopes she'll be able to carry a child of their own. (DailyMail)
2. The Pride flag is getting a makeover to be more inclusive.
A new version of the famous rainbow flag featuring an extra black and brown stripe was unveiled at a recent Pride Month kick-off event in Philadelphia. The flag is part of a new campaign, More Color More Pride, which seeks to be more inclusive of LGBT people of color. (Huff Post)
3. Is sweat actually a good indication of how intense your workout is?
You're probably familiar with the feeling of simply walking outside in the heat and having sweat pour off of you. While it would be nice if that counted as your workout for the day, that's simply not the case. Actually, sweat is very complex—both weight and fitness level contribute to how quickly you start sweating and how much you sweat overall. (CNN)
4. Vegetables don't actually exist.
It's true: The word vegetable doesn't even exist in botanical terminology. According to botanists, vegetables are harder to define than fruits because they are really just parts of plants that we happen to eat. Minds blown. (BBC)
5. Is your state one of the best for raising kids?
Mississippi is the worst state for raising children for the second year in a row, and New Hampshire is the best, followed by Massachusetts, Vermont, Minnesota, Iowa, and Connecticut. Using data from the Population Reference Bureau, a new report ranked each state by looking at economic well-being, education, health, and family and community. (CNN)
6. This 7-year-old girl wants to hug police officers in every state.
Rosalyn Baldwin's family has friends in Louisiana law enforcement. So, after the shootings in Dallas and Louisiana, she told her parents these officers needed her support and that she wanted to hug policemen and women in every nation on earth. Wanting to be supportive but not promise the moon, her parents suggested they start small. Now, she's worked her way through 16 states and plans to get through all 50. Ask her why she's doing it and Rosalyn will say, "Some people have been mean to them. I want to make them feel better." (ABC13)