Contributing Wellness & Beauty Editor
By Lindsay Kellner
Contributing Wellness & Beauty Editor
Lindsay is a freelance writer and certified yoga instructor based in Brooklyn, NY. She holds a journalism and psychology degree from New York University. Kellner is the co-author of "The Spirit Almanac: A Modern Guide to Ancient Self Care," with mbg Sustainability Editor Emma Loewe.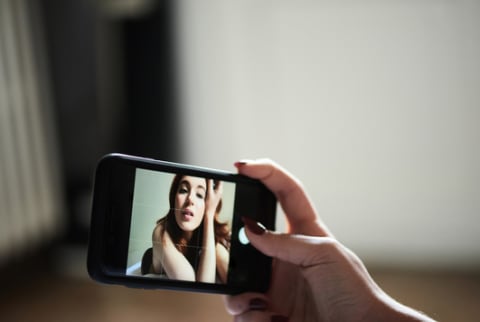 July 17, 2017
1. Sexting is good for you, if you're in a committed relationship.
A study of 392 college students completed by researchers at Indiana University–Purdue University Fort Wayne explored whether sexting has more emotional and sexual benefits than it has drawbacks. The take-away is pretty intuitive. There are more negative consequences associated with sexting done with casual partners while sexting a committed partner results in more frequent positive emotional and sexual benefits. (PsyPost)
2. Does eating tomatoes prevent skin cancer?
A new study says yes. Mice fed tomato powder and then exposed to UV light experienced a 50 percent reduction in skin cancer tumors than mice who weren't given the tomato powder. While these findings are preliminary, they could have big implications for humans, especially with skin cancer consistently on the rise. (Science Daily)
3. Spice up your morning joe with a cannabis-infused coffee pod.
A company called Cannabiniers is rolling out "Brewbudz," which are little pods made for Keurigs that infuse your coffee, tea, and hot cocoa with cannabis—or marijuana without the THC. So far they're available only in Nevada, but they'll be coming to California and Colorado soon. (Grub Street)
4. No more space on your flash drive? Try storing your files in live bacteria.
Using a powerful gene-editing tool (called CRISPR-Cas) researchers from Harvard Medical School and the Wyss Institute for Biologically Inspired Engineering were able to embed a video in the DNA of living bacteria. It might sound crazy, but DNA is actually a great place to store information. (STAT)
5. People who hear voices other than their own don't always hate it.
Schizophrenics and people who claim to hear voices are starting a movement that's currently 90 support groups' strong—they don't want to take medication because they'd prefer to hear their voices. The support groups offer techniques and guidance on how to engage with the voices in a healthy, constructive way, altering what they say for the better. (Science of Us)