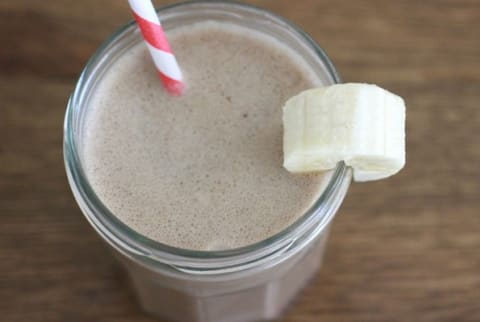 October 9, 2014
Editor's Note: We all know a protein-rich smoothie is a smart way to start the day, but coffee is often pretty crucial as well. Carrying both on your commute can be tricky. This recipe combines the benefits of a smoothie with coffee all in one drink. Rad.
Iced Coffee Protein Smoothie
1/2 cup cold-brewed coffee (or 2 shots espresso over ice)
1/4 cup unsweetened almond milk
1/2 ripe banana, frozen and cut into chunks*
1 tablespoon almond butter
1 pitted date
1 scoop vanilla protein powder (I like Tera's Whey in bourbon vanilla)
1/2 teaspoon vanilla
dash ground cinnamon
*Sometimes I forget to freeze the banana and if so, I just add half a cup of ice.
Blend in a high-powered blender and drink up.

Alicia Sokol
Alicia Sokol, MPH is a freelance writer and photographer living in Washington, DC. She created the blog Weekly Greens to demystify the notion of home cooking for busy people (yes, you). Her recipes, cooking tips and stories inspire her readers to back away from the hot bar, embrace whole food ingredients and cook from scratch with no fuss. She is also a certified instructor of barre3 — a combination of yoga, ballet and pilates — in Georgetown. Follow her on Instagram @aliciasokol for a chronicle of foods she's whipped up for dinner and booties she's whipped in the studio.