I Didn't Feel A Connection With My Baby At Birth. Here's What I Wish Other Moms Knew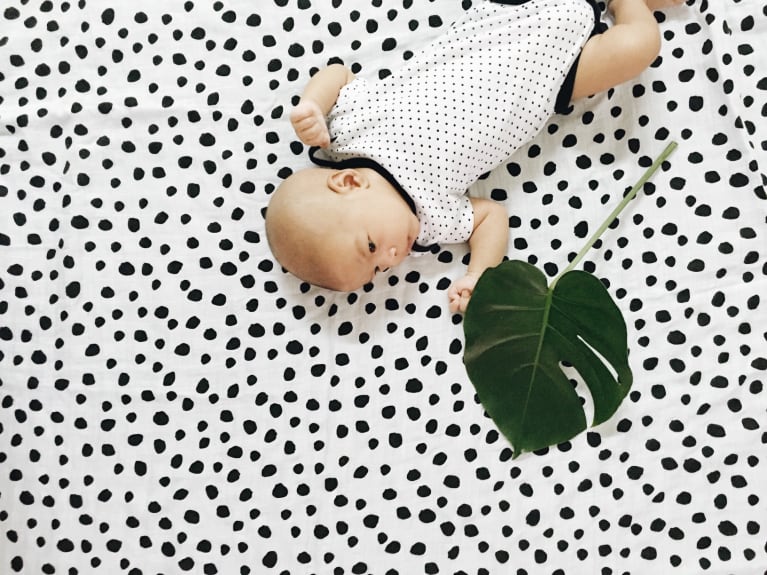 I got into this health and wellness journey because I was overwhelmed, overtired, stressed out, and felt lost. I also felt lonely and alone in this motherhood thing. How could I tell my then-boyfriend that this family life stressed me out more than brought me joy? I was ready to ask for help so I did but was told that there was a waitlist and that I better shake it off. I was lost, on a verge of a breakdown...and then told to get on a list or go home. It made no sense! I am going crazy NOW, not in two years!
There are times when you need to take well-being into your own hands. This was one of them.
So, I decided it was up to me. Up to me to find a way to "fix" me and feel joy again. I "fixed" me when I had an eating disorder, so I could do it again!
Here's the truth bomb: I didn't feel a connection with my daughter when she was born.
I felt like I was a robot going through the "mommy" motions without actually feeling the mama instinct, or frankly, love. Was this how it was supposed to be? I was dreaming of packing my bags and driving away...they wouldn't even miss me anyway, I thought at the time. I cried myself to sleep every single night because I felt like the worst mom ever! I knew something had to change. I would either drop everything and run or make sure I woke up excited to be alive and to be a mom.
I turned to health, fitness, and spirituality. That is what I knew. It helped to find a few kindred spirits on social media who vouched that health, fitness, and meditation saved them from themselves. It was worth a try...and now, four years later, while having a conversation about nothing in particular, my fiancé said to me, "You have done a lot of work on yourself these past years and it shows!"
How I finally stepped into motherhood
The simultaneously simple and not-so-simple answer: I said yes to me! I took care of myself first. It didn't make me selfish and a bad mom... It made me a better me, a better person, a better mom, and a better wife-to-be.
If you ask my kids, they will say that they barely noticed that I was taking care of me before taking care of them...except the veggies, my son will say!
Here are my suggestions for any mom or person who's struggling with something in her life.
Having a regular Miracle Morning Routine (Every morning, you go through this your "life S.A.V.E.R.S" which are Silence, Affirmations, Visualization, Exercise, Reading & Scribing)
Reading personal development books when the kids took over the electronics
Extra veggies on our plates
Daily workouts or yoga
Oh, and a few bubble baths once the kids went to bed
Health and wellness truly helped me get my life and happiness back! I was able to look inside for answers (some were hidden into a big pile of old stuff...) instead of outward for medication and numbness. Did it take time? Yes. Did it take work? Yes. But ultimately, prioritizing my well-being put me in a better place to be the mom that, deep down, I always knew I could be.