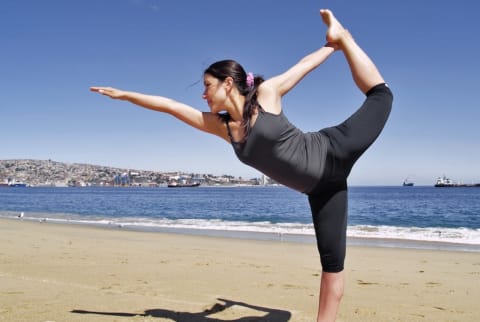 February 7, 2013
The first time I heard someone mention a "yoga competition," I scoffed at the idea. 
But yoga isn't about competition!
For years in Bikram classes, I watched as yoga competitors demonstrated their postures to the beginners. I thought they were show-offs and wasn't interested in the concept.
I never thought I'd ever be a competitor myself.
After two and a half years of practicing Bikram yoga in Lexington, Kentucky, a few teachers began encouraging me to compete. I had demonstrated improvement in discipline, focus, and difficult poses, especially in standing bow, one of the competition postures.
While I enjoyed the challenges of the postures, yoga was my spiritual connection to the goddess within myself—certainly not something that could be measured by a panel of judges.
Plus, I am not a competitive person. The only competing I'd done since my last volleyball match in the 8th grade was a handful of 5K runs. I'd quit ballet and all sports before high school because I felt I didn't have what it took to excel.
And until I started practicing yoga, I'd been suffering from a deep mind-body disconnect, a decade of weight fluctuation, and major self esteem issues. A few years ago, just before my 22nd birthday, someone finally called me fat. I'd been telling myself that I was fat for years, but hearing someone else say it changed everything. I started running and lost a good deal of weight, the healthy way, and two years later discovered Bikram yoga.
Now I was considering signing myself up to compete solo on a silent, well-lit stage wearing nothing but a bathing suit—all of my most intense fears and insecurities exposed within a 3-minute routine.
The way a yoga competition works is this: competitors perform 7 different postures in 3 minutes. Everyone must complete the same 5 poses — standing head to knee, standing bow, bow pose, rabbit, and stretching—but the last two are yogi's choice. Judges score and declare winners based on quality of posture, strength, flexibility, balance and grace.
After years of hating myself, I craved the liberation of facing the world in such a light, to pronounce that I was grateful for my body and what it can do.
And so, when my studio posted the sign-up sheet for competitors, I wrote my name down, still not convinced I needed to compete.
"You'll train and get so confident in the advanced classes that you can't not show off your poses," the trainer said to me. "It's not about winning, it's just fun."
For weeks, I put in extra hours after class doing repetitions of my 7 postures, and in early October, found myself in Birmingham, Alabama for Regionals.
I was immediately reminded of ballet recitals from my childhood: Girls in black leotards were pinning each other's hair; some were applying make-up. Others stretched on the floor. A lady, plugged to her iPod, meditated in the corner. Another was by the wall rehearsing her routine.
I could easily spot the other nervous newcomers. Every few minutes, one of us checked the program to see exactly how much time was left. I stretched. I checked my hair. I went over my routine in another corner, more out of restlessness than perfection. I went to the bathroom. I peeked in the main room. I returned backstage.
When the moment finally arrived, I felt like I was about to jump out of an airplane. I smiled. Bright lights beamed as a photographer snapped photos. I had 3 minutes on stage.
Here I am world. This is where I am in my practice. This is where I am in life.
I did my 5 main postures, then a full camel, and in my final toe stand posture, I fell out. I flashed a "whoopsie" smile to the judges. I knew they'd deduct points, but acceptance was my only choice.
When the judges later sent out the scores, I glanced at them but don't remember mine. They took the top three competitors for men and women from each state, and since only two women competed from Kentucky, I qualified for Nationals.
The rest of the weekend, all the yogis, studio owners and teachers shared their lives and discussed the yoga. A tall Indian gentleman told me he wishes it was called a demonstration rather than a competition, and I agree. My initial knee-jerk reaction to the term "competitive yoga" had only held me back.
But regardless of how you feel about a yoga competition, my experience was this:
I entered as a skeptic and left a yoga champion.
Now, with a great excuse to go to New York City, I train, which means lots of yoga and all the magic that comes along with it.
Nationals will be held March 1-3 at the Hudson Theater in New York City. For more information about the competition or for tickets, please visit USAYoga.
Lauren May
Lauren May graduated from the University of Kentucky with an English degree, and by day works in estate sales. She is a freelance writer and seamstress, and believer in the joy of living artfully. She's currently working on a novel and children's book, and fills up her free time with yoga, meditation, travel, antiques, cooking, and volunteer work. Aspiring to her own inner child yet embracing the wisdom that comes with aging, she likes to think she's "getting younger." She enjoys working in different trades, learning new skills, and walking in others' shoes. She feels a deep connection to the universe and seeks to inspire others to fuel their passions and live happier.