Produce Going Bad? This Celebrity Cookbook Author Has 7 Tricks To Save It
Contributing Food Editor
By Liz Moody
Contributing Food Editor
Liz Moody is a food editor, recipe developer and green smoothie enthusiast. She received her creative writing and psychology degree from The University of California, Berkeley. Moody is the author of two cookbooks: Healthier Together and Glow Pops and the host of the Healthier Together podcast.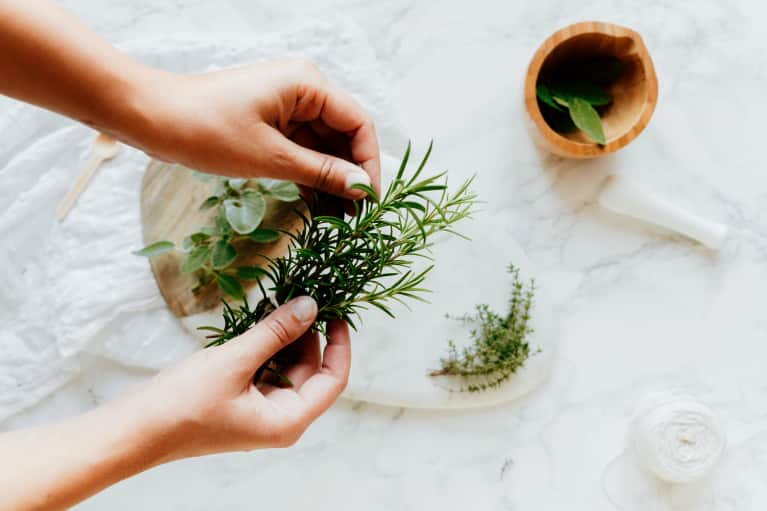 Our editors have independently chosen the products listed on this page. If you purchase something mentioned in this article, we may
earn a small commission
.
To say that I'm obsessed with Julia Turshen would not be an exaggeration. She's the author of Small Victories, named by the New York Times as one of the best cookbooks of the year, and Feed the Resistance, which stemmed from her unique fusion of food and activism. "We all eat anyway," she told mbg last year, "so why not make thoughtful decisions about our food? Justice in our food systems also means racial justice, economic justice, and so on."
Her newest cookbook, Now & Again, is a modern classic, with ingenious recipes not only to make beautiful, flavor-packed dishes but repurpose their leftovers in new, exciting ways. "In a way, Now & Again is a book about food waste without ever saying so," she told Forward. "Moreover, it's definitely and explicitly about reinvention—which is something that is good for us to all be reminded of frequently. Anything, even us, can change."
Here, in an excerpt from the book, she tackles food waste more explicitly, with seven ways to utilize not-so-new produce rather than just tossing it. Now, if you don't mind, I'm off to make that banana bread milkshake.
When you've used up the leaves from tender herbs like parsley and cilantro, don't just toss the stems. They have tons of flavor! Use them in stock or turn them into something tasty like this salsa. To make it, very thinly mince the stems. For every handful, add a minced garlic clove, a small handful of drained brined capers that you've run your knife through, and a spoonful of Dijon mustard. If you love anchovies like I do, add a couple of minced olive-oil-packed fillets. Add a splash of red or white wine vinegar and enough olive oil to turn the mixture into a sauce (about ¼ cup/60 mL should be about right). Season to taste with salt and pepper. Serve on boiled eggs, roasted potatoes, grilled chicken or fish, seared scallops, or broiled lamb—basically, anything.
When you have a bit too much rosemary, dry it at room temperature or in a 200°F [95°C] oven until dry and crisp, and then strip the leaves from the stems. For every small handful of leaves, use 2 large handfuls of kosher salt, put both into a food processor, and pulse until the rosemary is finely chopped and mixed evenly with the salt. Store in a tightly capped jar in a dark spot at room temperature. Use whenever salt and rosemary would also be welcome (so on root vegetables or chicken before roasting, pork tenderloin or steak before grilling, or mushrooms as they're sautéing). It makes a lovely gift, too.
Shaved Celery & Parmesan Salad
When you have too much celery, or celery that is just beginning to lose its crispness, thinly slice it on the diagonal with either a very sharp knife or carefully on a mandoline. Dress the celery with equal parts lemon juice and extra-virgin olive oil, and season to taste with salt and pepper. Serve topped with shaved Parmesan cheese and an extra drizzle of olive oil. Toasted and chopped hazelnuts are also very nice on this.
Whole Wheat Blackberry Pancakes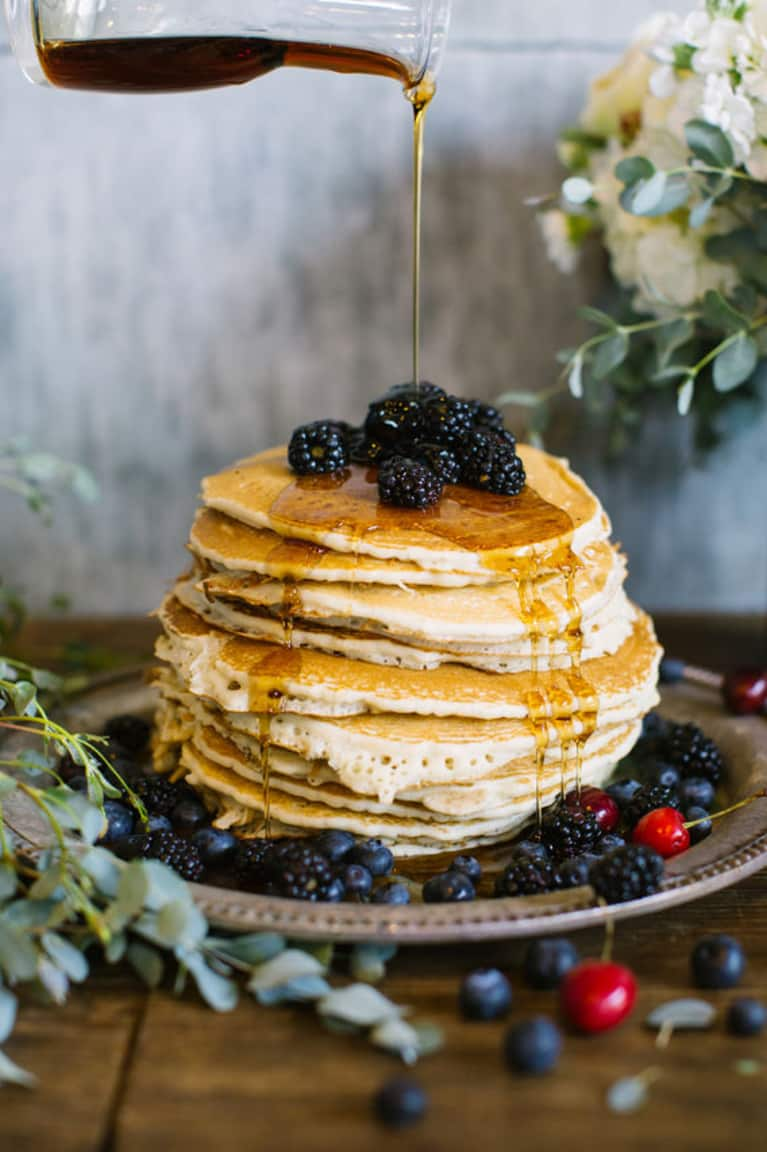 When blackberries (or any berries) aren't looking too perky, just add them to these easy pancakes. For two generous servings, beat 2 eggs with 1 cup [240 mL] buttermilk, 1 tablespoon maple syrup, 1 teaspoon vanilla extract, and ½ teaspoon each salt, baking soda, ground cinnamon, and ground ginger. Stir in ½ cup [70 g] whole wheat flour. Spoon the batter into a hot buttered skillet (or try coconut oil or ghee) to form pancakes, and top with blackberries. Flip when the undersides are browned and then cook until the second sides are browned and the blackberries are lightly caramelized. Serve with whipped cream and crushed blackberries or blackberry jam.
Onions and garlic that are past their prime (or that you have in excess) can be roughly chopped, skins and all, and put into a large pot with water to cover. Season generously with salt, and simmer until the onions and garlic have lost all of their structural integrity and the broth is very aromatic, at least 1 hour but preferably 2 hours. Strain and use immediately, or let cool to room temperature and store in airtight containers in the refrigerator for up to 1 week or freeze for up to 6 months. Serve as is with tiny pasta and grated cheese for a simple but satisfying soup, or use in any dish that calls for chicken or vegetable stock (so soups, risottos, braises, and the like). You can also add caramelized onions and garlic to the broth and serve as a simple onion soup.
When you have grown or purchased too many hot chilies, discard the stems, roughly chop the chilies, and put them into a small saucepan. Cover with equal parts water and distilled white vinegar. For every 1 cup [240 mL] liquid, add 1 teaspoon each salt and sugar. Simmer until the chilies are softened, about 15 minutes. Use an immersion blender to purée the mixture (or transfer to a countertop blender or food processor). Season to taste with more salt if needed. If you prefer a really smooth sauce, strain through a fine-mesh sieve. Serve at room temperature. Leftovers can be stored in a tightly capped jar in the refrigerator for up to 2 weeks. When handling hot chilies, be careful to avoid touching your eyes or other sensitive areas.
When you have overripe bananas and don't feel like baking, peel them and then freeze them. For each serving, put a frozen banana into the blender with ½ cup [120 mL] milk (any kind), ½ teaspoon each ground cinnamon and vanilla extract, and a small handful of walnuts. Purée until smooth and enjoy immediately for all of the flavors of banana bread without any of the baking.
Based on excerpts from Now & Again: Go-To Recipes, Inspired Menus + Endless Ideas for Reinventing Leftovers by Julia Turshen, with the permission of Chronicle Books. Copyright © 2018.