These Pantry-Stocking Tips Will Save You Hundreds Of Dollars On Groceries

Contributing Food Editor
By Liz Moody
Contributing Food Editor
Liz Moody is a food editor, recipe developer and green smoothie enthusiast. She received her creative writing and psychology degree from The University of California, Berkeley. Moody is the author of two cookbooks: Healthier Together and Glow Pops and the host of the Healthier Together podcast.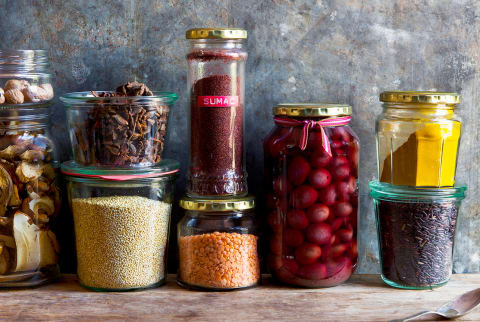 April 19, 2018
Melissa Coleman is not a woman of excess. On her blog, The Faux Martha, she shares clean photos of simple meals that happen to be healthy and delicious: the kind of cooking you'd actually do at home. Her new cookbook, The Minimalist Kitchen, showcases her philosophy further, with pared-down recipes that don't sacrifice flavor. She also shares everything you need to know about stocking a kitchen with exactly what you need (how often will you really use that citrus press?). Here, she shares the genius pantry-stocking tips that will save you hundreds of dollars on groceries while still ensuring you can always get dinner on the table in a flash.
Keep a list.
As soon as you think of something, write it down. This is a habit worth developing and one that took me a very long time to develop. Over- or underbuying will kill a pantry. I use a list-keeping app on my phone, Wunderlist, to keep separate lists for every store we shop at. My husband can see and contribute to the list as well, so either person can do the shopping. If you're extra efficient, you can even manually arrange the shopping list according to the flow of the store.
Shop your list, not the store.
This is my No. 1 rule. A list is no good unless you use it, right? It's important to note, a minimal pantry starts at the store, not at home. Be mindful of what you're buying. If you notice yourself getting bored with the same old things, find a positive way to meet that need. Maybe it's going out to eat to get something special. Or maybe you introduce a new rule—buy one spontaneous thing a month. Again, know the rules, so you can break them.
Break up shopping.
Grocery shopping is one of my least favorite tasks, and yet it has to be done on a weekly basis. To make it more manageable, I break up shopping into two categories—pantry/bulk shopping and weekly maintenance shopping. About once a month, I shop in bulk for the pantry, using the list we've been maintaining. About one to two times a week, I make quick maintenance trips to the grocery store to pick up fresh produce and other perishables. As you consider shopping in bulk, keep a couple of things in mind. If an item is shelf-stable, do you have a designated spot to store the excess so that it doesn't crowd the everyday? If perishable, can you consume it before it goes bad? If not, consider buying in smaller portions from a traditional grocery store. Waste from buying in bulk can cancel out the cost savings.
Restock the pantry when you get home.
As soon as you get home from the store, restock the pantry by emptying store-bought boxes and bags into the designated pantry containers. If you're anything like me, later rarely happens.
Stock the fridge smartly.
Sometimes I forget to address the fridge. Because when you have a well-stocked pantry, a meal plan, and do only minor grocery shopping for fresh produce and other perishables one to two times a week, the fridge handles itself pretty well. In the book, I talk about what to keep stocked in the fridge versus what to buy on an as-needed basis. As with the pantry, give yourself parameters here, too. I find meal planning to be the most helpful for keeping the fridge from going wild.
By design, the fridge comes with its own set of flaws. Some are too small, others are too deep, and very few are just right. I think we often assume that more space is always better. Sometimes, in the case of really small refrigerators, this is true. But in the case of most, there's often too much space. Like deep pantry shelves, deep fridge shelves are places for food to go to get lost. Extra space often begs to be filled. So if you have deep fridge shelves, consider using the full depth only when absolutely needed in an effort to keep visibility high. Stock amounts you're able to consume before expiration, and don't be afraid to have empty spots in the fridge. When (and if) you find yourself in the market for a new fridge, I'd recommend a counter-depth fridge, which is more shallow than the traditional fridge. It has just enough space.
Based on excerpts from The Minimalist Kitchen by Melissa Coleman, with the permission of Oxmoor House. Copyright © 2018.