Teacher Appreciation Week: 7 Ways To Show Gratitude Right Now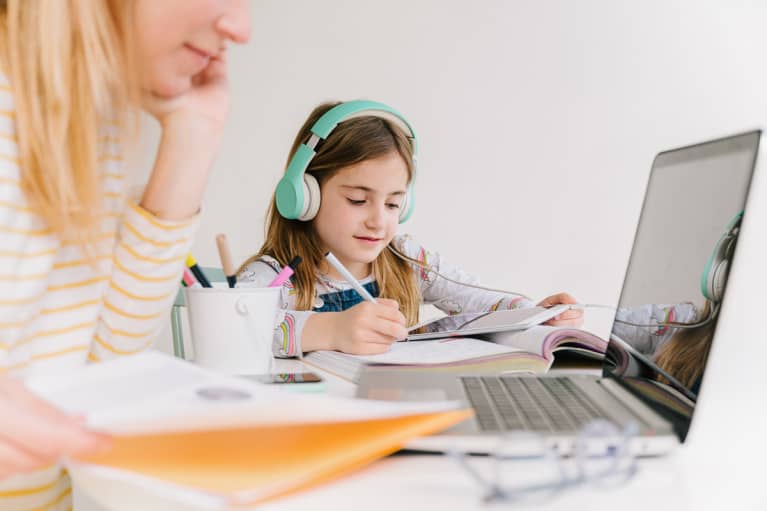 It's Teacher Appreciation Week, and if you're feeling extra appreciative of what teachers deal with on daily basis this year, perhaps take this time to show it.
It doesn't need to be a grand gesture or a financial one, but sending your child's teacher some gratitude right now will likely liven their spirits, show your kids some valuable lessons, and perhaps even brighten your day.
7 ways to show teachers you're thankful — even from afar.
We spoke with the parents in the mbg offices, as well as teachers in our world, to get some ideas on how to celebrate Teacher Appreciation Week. Here are a few ways, big and small:
Make a video card. Since a handmade card may be difficult to deliver, opt for a video card instead. It's easy: Simply record your kid's message of gratitude to their teacher, attach it to an email with a few words from you, click and send. Encourage your kid to get specific with their message—is there something about the teacher they miss the most, like a classroom ritual or subject?
A virtual gift card. Now it's easy to buy gift cards online for any store. If you aren't close with the person, opt for something general, like the area's grocery store chain, a prepaid debit card, or Amazon.
A night out (when this all over). If you want to get them something more personal, find out their favorite local restaurant or coffee shop and purchase a gift card there. You'll feel good supporting a small business, and they'll have something to look forward to when things start going back to normal.
Flowers. If there's a local florist you trust, kindly ask the teacher's address and if they are comfortable with deliveries. Then just purchase a bouquet within your budget and add a nice note to go along with it.
A streaming service. Give them a month of streaming service, like Netflix or Hulu. It's easy; just buy a gift card for the value of one month's worth of whichever one you choose, and send it their way. We all need a little entertainment right now.
A short story or poem. Have your child write a short story or poem. They can either write it and you can send it via email, or they can even read it aloud to the teacher over a video. For the musically inclined, encourage them to make up a fun tune.
Pool together resources. If you'd like to make a bigger gift, reach out to the other parents and see if there's something you can do together, be it going in on a gift card or a combined video message from all the kids. Just be mindful that not all parents will be able to contribute monetarily or timewise, so try to keep whatever you do as low-lift as possible for those parents.
The most important thing is to have fun, show your gratitude, and encourage your kid to show thanks. The monetary amount doesn't matter—nor does the time spent, really, as we know that many of us are actually busier than ever right now. Just have your kid create something from the heart—it'll go a long way.