A Delicious Sushi Recipe You Can Totally Make At Home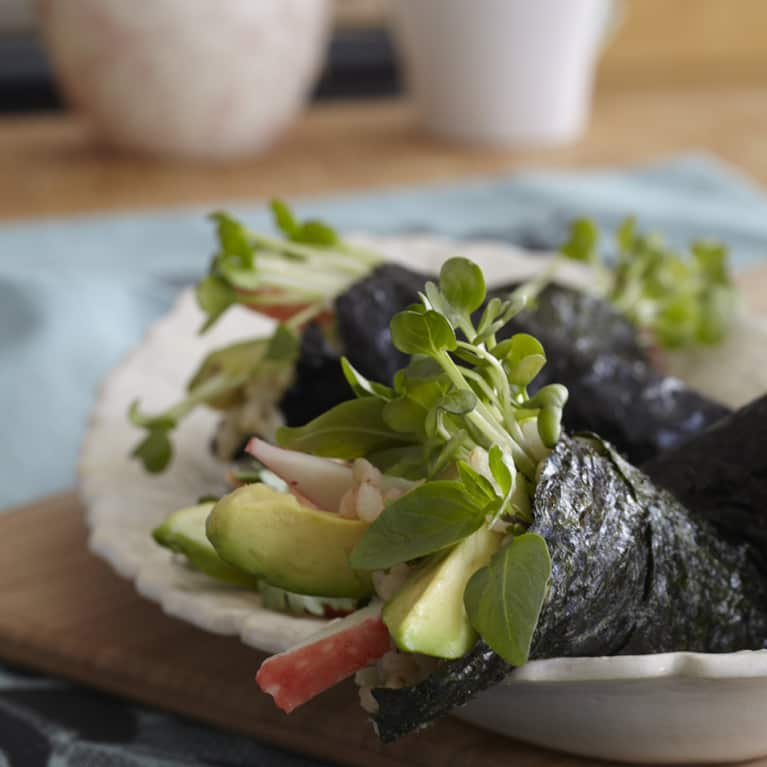 Growing up with a beautiful Japanese mother in sunny San Diego, I learned how to master Eastern cooking and lifestyle methods in a Western world.
Before I began to even read or write, I knew how to cook and make sushi. My incredibly talented and detail-oriented mom taught us to make simple sushi—nori hand rolls. Nori is a type of seaweed that acts as a perfect wrap for various fillings.
Sea veggies are naturally low in both calories and fat. Seaweed contains amazingly high levels of vitamins and minerals—especially vitamins B12, C, D, E, and K and minerals including potassium, calcium, iodine, zinc, and fiber.
Seaweed could help maintain healthy cholesterol and blood pressure levels, and it's rumored to boost libido, too (ooh-la-la!).
So, start going green with sea veggies!
Today, I'm sharing how to make nori hand rolls, just like my mom taught me. They're the perfect treat on the go, for lunch, or as a power snack post-workout!
Candice's at-home Nori Rolls
Makes 4 to 6 servings
Ingredients
10 to 12 sheets toasted nori (seaweed)
2 to 3 cups cooked brown rice
Ripe avocado, thinly sliced
Fresh basil, stems removed
Cucumber, thinly sliced lengthwise
Fresh cilantro sprigs
Carrots, thinly sliced
Japanese kaiware sprouts
Japanese umeboshi plums, seeds discarded
Daikon pickles
Imitation crabmeat pieces or sticks
Smoked salmon, thinly sliced
Smoked tofu, thinly sliced
Furikake (Japanese Mrs. Dash)
Toasted sesame seeds
Togarashi
Sriracha hot sauce
Reduced-sodium soy sauce, for dipping
Ponzu sauce, for dipping
Preparation
1. Using kitchen shears, cut the nori in half. You should have 20 to 24 half-sheets. Have ready a small bowl of room-temperature water.
2. Place the nori half vertically in front of you on a clean surface.
3. Place approximately 1⁄4 cup of brown rice diagonally on the bottom left corner of a nori sheet. Top with your choice of fillers, proteins, and seasonings. Tightly roll the nori into a cone shape around the filling and seal the edge of the nori with a dab of water.
4. Dip in your choice of sauces or just enjoy as is!
For more Japanese inspiration and fresh recipes, follow me on Instagram @CandiceKumai.