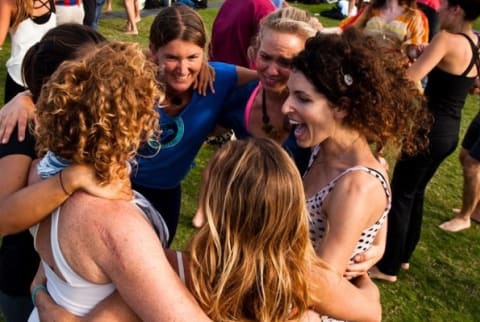 Photo by Shutterstock.com
June 10, 2013
Sure, you know The Beatles song "Dear Prudence." But which of these facts about the song are true?
1. It's about actress Mia Farrow's sister, Prudence Farrow Bruns.
Advertisement
This ad is displayed using third party content and we do not control its accessibility features.
2. John Lennon is asking Prudence to come out to play because she was so engaged with… her meditation practice!
3. Prudence herself will be at Wanderlust Whistler this August, speaking about Transcendental Meditation™!
Why, all of the above are true!
In 1968, The Beatles went to Rishikesh, India with a group of close friends, including Prudence, to study with enlightened teacher, Maharishi Mehesh Yogi. After each session, she was known to rush back and meditate in her room for hours, closing herself off to the world. In the song, Lennon serenades her, and suggests that she "open her eyes" and remember that she is "part of everything."
So what does this have to do with making friends in the yoga community?
As we deepen our spiritual practices, the tendency can be to only be concerned with our own bodies, our own health, our own happiness, our own journey to enlightenment—and forget there is a whole world out there that would benefit greatly from our compassion, kindness, generosity, and frien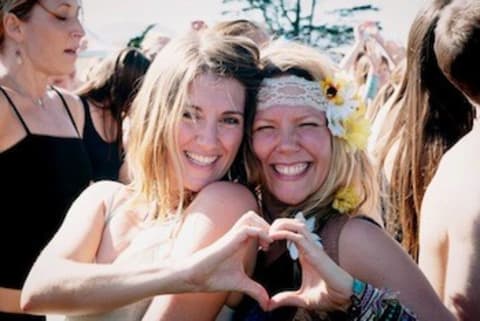 dship.
Perhaps John Lennon wrote this song to entice all of us to come out to play with the plethora of yoga events, workshops, and opportunities out there to connect with like-minded individuals also looking to connect in a deep but playful way.
5 Tips for Turning Up Your Radar to Find New Connections
1. Be open after yoga class. 
This may seem like the most obvious place to make buds, and while it's certainly the place to find other awesome yogis, it's also a place of introspection, so we recommend proceeding with loving awareness. While you may be there to scope out your next BFF, they may not be there to do the same.
If you happen to make eyes with someone before class, it can absolutely be followed up with your warmest smile, but be wary of taking that as an invitation to walk up and talk his ear off. For many people, yoga class is their only opportunity to go inward and have "me" time, so honor that.
At the same time, if you sense the gal next to you is digging your energy, crack a joke after class or pay a compliment, it may strike up a convo that may lead to tea and a sweet friendship.
2. Find cool events. 
Yoga studios usually host special events: workshops, guest lectures, and live music! Sign up and you're bound to meet awesome people in this inviting, social atmosphere.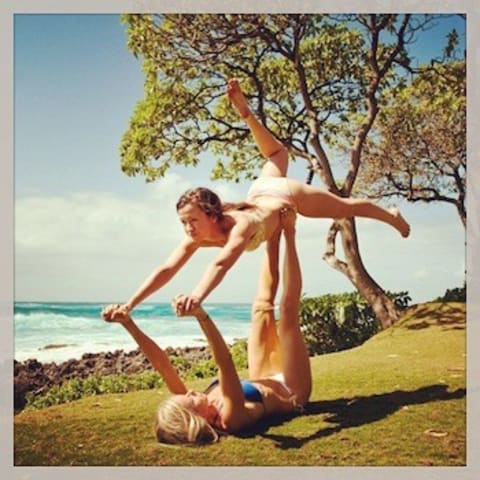 Advertisement
This ad is displayed using third party content and we do not control its accessibility features.
On a larger scale, Wanderlust Festivals combine yoga, music performances, and inspirational speakers. Memories of doing headstands at sunrise, dancing in the rain to MC Yogi, and bonding over Elena Brower's lecture on how to speak your truth and achieve peace, will form tight bonds for lifetimes.
3. Volunteer.
Many yoga studios offer volunteer programs—helping out at the studio to get free yoga classes. This can be a great way to meet fellow yogis, and you're guaranteed to see them around the studio and bond while cleaning yoga mats or working at the front desk. You can also volunteer at yoga festivals and events, like a Wanderlust Festival or Yoga in the City.
What do you feel passionate about? Find an organization that needs an extra hand and offer a few hours of your time each week. Aside from being a huge gift to others, doing selfless service will also give you a deep sense perspective and gratitude for your life and allow you to feel part of something bigger.
4. Try something new together.
After you've made a connection with a fellow yogi, make a date to continue to the fun! Try planning an activity that supports each other's personal growth: plan a walk in the park, grab a delicious healthy lunch, sign up for a workshop together, go dancing, cook or hit up some thrift stores for cute to and from yoga class gear.
5. Stay up-to-date on yoga news. 
Check out the Wanderlust Journal for yoga news. With frequent Guest Scribes from the Wanderlust community, like Ashley Turner's "4 Ways to Let Go of Resentment," you can live your yoga combining service to self and others.
Making true friends in your yoga community is like water for your soul, it is vital! It's so important to have people who you trust, love, connect with, who understand you, and where you both share a deep desire and commitment to be the fullest, most beautiful expressions of yourselves
Now, don't be shy. Go out and let your purest intention to build and be part of a beautiful community radiate -- and if you do that, chances are, they may even find you first.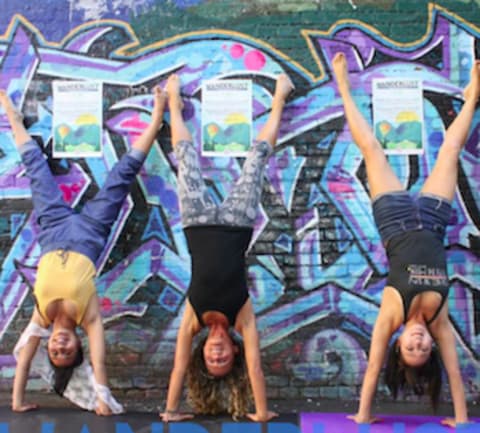 We hope to see you out at one of our festivals or Yoga In the City events this summer!
Wanderlust Vermont, June 20th-23rd, 2013
Wanderlust Colorado, July 4th-7th, 2013
Wanderlust California, July 18th-21st, 2013
Wanderlust Whistler, August 1st-4th, 2013
Wanderlust Tremblant, August 23-25th, 2013
--
Yoga In the City Chicago, June 2nd, 2013
Yoga In the City New York, June 9th, 2013
Yoga In the City Los Angeles, June 30th, 2013
Wanderlust is a one-of-a-kind festival bringing together the world's best yoga and wellness teachers, speakers, top musicians and DJs, all in a setting of breathtaking natural beauty. Where you root down to rise up, find a higher practice on a mountaintop, nourish yourself with healthy local food, and experience all-night chakra spinning live music with your crew.
Advertisement
This ad is displayed using third party content and we do not control its accessibility features.