How To Build New, Meaningful Connections In A Large City

By Shanna Tyler
mbg Contributor
Shanna Tyler is a life coach for entrepreneurial women and community founder of Self Soul Sport. Based in New York City, she is also RYT-200 certified and consults for girlboss businesses.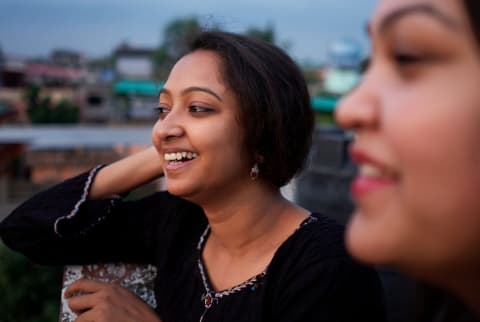 Photo by Saptak Ganguly / Stocksy
November 14, 2018
Friendships aren't easy to create as an adult. We no longer have play dates or school classes that keep us around people. We have jobs that we work, then head home during a commute in our own bubble, and then start over the next day. We stick to the same, usual routines. It's especially difficult in a large city where the hustle and bustle can be so much that people tend to rush to the next place instead of slowing down to foster the next friendship.
As a community builder who works to bring together conscious, supportive gatherings of women to share and connect with one another, I can tell you this: Cultivating new relationships, even in a large city, doesn't actually have to be difficult. It just takes a little active, intentional effort—just like most things in life. Here are a few ways to get you started:
1. Be the friend that you'll want to have.
One of the ways we cultivate friendships is, drum roll please...by being friendly. Yes! Think about the people you're naturally inclined to start a conversation with. They're usually sporting a smile, maintaining eye contact, and welcoming with their body language. How we carry ourselves will attract new connections, especially in a large city. The next time you're at a function by yourself, sit up tall, ease your jaw with a slight smile, and look around the room. Make eye contact with as many people as you can and sport a slight smile, or if you're feeling it, a full one. This instantly makes you more attractive to initiate conversation with.
2. Attend niche events for your favorite hobbies.
If you love to do something, why not share that with others? Whether it's painting, baking, or collecting stamps, there is bound to be a group of people who are meeting about it in your city. In this group of people, it'll be easier to initiate and develop a friendship given you have the same exact hobby.
Google can be the first friend you make in cultivating new friendships. For instance, if you love to write poetry and are based in New York, search for keywords like "local poetry meetups in New York." You'll find yourself directed to the extremely helpful Meetup.com website (see more below), poetry clubs in New York, and free workshops to meet other people just like you.
3. Connect with people online and take it offline.
The beauty of social media is that you can also be social with the same people off the screen! Schedule coffee dates, lunch outings, or workout dates with someone you're interested in getting to know on social media.
How exactly do you do that? Look at existing relationships you have on social media in your large city. Who are you engaging with on a consistent basis? Invite them out for coffee by simply messaging, telling them you're interested in hanging out, and sharing some dates that you're free. If you don't have any online connections in your large city yet, you can make a post about it. Share that you're looking for friends and that you're new to the area, hashtag it with your local city, and watch the likes. One person is guaranteed to engage that is in your area that you'd want to meet up with.
4. Make use of social apps.
Last but not least, definitely tap into friendship and connections-centric apps and platforms, such as Bumble BFF and Meetup. Bumble BFF is a tool from Bumble (yes, the dating app) that's completely focused on friendships. Instead of swiping through potential romantic partners, you can look through people who've also indicated they're interested in meeting new friends to hang out with around town. Meetup is another awesome resource that allows you to explore groups by category of interest, like "Fitness" and "Book Clubs." (The homepage right now includes categories like "Join a movement," "Learn to cook," "Build an app," and "Practice a language"—so you can definitely get specific with this.) From there, the app points you to local meetups, events, and communities of people with similar interests to your own.
Feeling encouraged to build some awesome relationships in your large city? You can do it! These steps will have you cultivating all the friendships you've ever wanted, no matter how hectic your surroundings may seem.

Shanna Tyler
Shanna Tyler is a life coach for entrepreneurial women and community founder of Self Soul Sport. Based in New York City, she is also RYT-200 certified and consults for girlboss businesses. After graduating with her B.A. in fashion merchandising from Albright College, Tyler felt called to change directions and empower women like her get unstuck and live their passion.

Tyler believes that you can do it and have it all—from pursuing a life of passion, cultivating a supportive network, and making money doing what you love. Check out her podcast here.