Watermelon Cake Is A Thing & It's Delicious: Here's How To Make It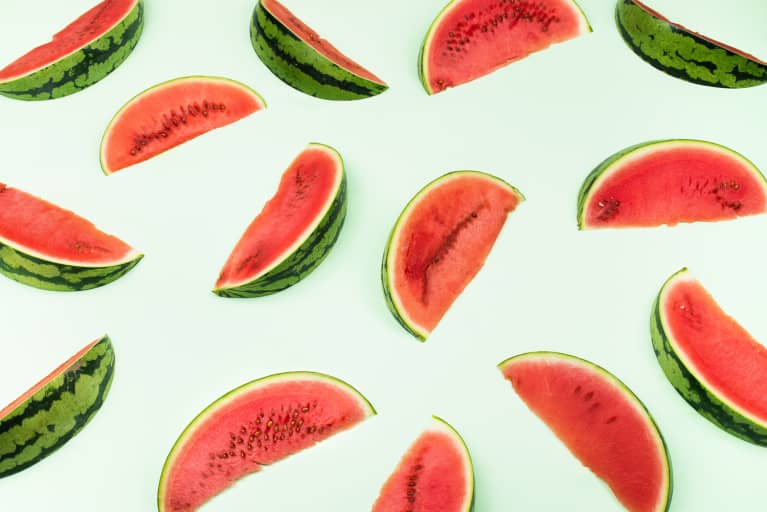 There are a million and one things you can do with watermelon, but have you ever thought of transforming one into the most gorgeous and refreshing cake of your life?
Well, hold onto your hats because we are about to show you how. It involves two main ingredients and takes less than 30 minutes to create.
This refreshing (and healthy) dessert is seriously what summer dreams are made of. So, let's get to it!
1 large seedless watermelon
3 cups whipped cream (or coconut whipped cream)
desired toppings (we like strawberries and crushed almonds)
Preparation
1. Lay the watermelon on its side. Holding the watermelon firmly to the table with one hand, slice off both ends to create flat surfaces.
2. Set the watermelon on a flat plate. Use a knife to carefully trim the rind from all sides to create a round cake shape.
3. Pat the watermelon down with paper towel to get it as dry as possible on the outside. (This will help the icing stick.)
4. Use a spatula to ice the watermelon whipped cream. To keep it dairy-free, use this Coconut Whipped Cream. Smooth the icing out with the back of a spoon or a butter knife.
5. Now for the fun part: Decorate your watermelon cake however you'd like! We recommend fresh fruit, coconut flakes, crushed nuts or even fresh mint.
6. Slice, serve and enjoy!